Basic Facts about Senior Care That You Could Find Surprising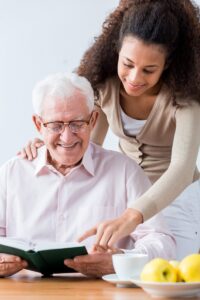 Some people have a good idea of what is involved in senior care. But facts about senior care have changed with time, and seniors today face different circumstances than before. Others may be surprised at the state of senior care, what is involved, and how those services are changing. Below are a few surprising facts about senior care.
Fast Facts About Senior Care and Senior Health
According to the National Council on Aging:
Nearly 95% of older adults have at least one chronic disease, and almost 80% have at least two.
The leading causes of death among older adults in the U.S. are heart disease, cancer, COVID-19, stroke, chronic lower respiratory diseases, Alzheimer's disease, and diabetes.
Every 11 seconds, doctors treat an older adult in the emergency room for a fall. Around 3 million adults aged 65 and older are treated in emergency departments for unintentional fall injuries yearly.
One in four older adults experiences some mental and behavioral health issues, including depression and anxiety disorders, and dementia.
In addition:
These statistics give an interesting picture of the type of care needed by seniors and hint at the physical and emotional challenges that must be faced by the seniors and the family members providing care for them. Below is additional information about senior home care for those currently providing or considering providing care for senior loved ones.
The Number of Seniors Who May Need Care is Increasing
One of the most surprising facts about senior care is how essential home care services will be in the future, thanks to the enormous increase in the elderly population. In 2020, the 65+-year-old population in the United States was around 56 million. By 2030, that segment of people is expected to increase to over 73 million.
The growth results from the massive population of baby boomers aging as a large segment of the population and living longer than previous generations. Consequently, the number of seniors who will need care will also increase. As a result, more people will need home care services. Many families are already taking that step for their loved ones, since we have seen such a rise in the need for home care services.
The families we serve keep saying great things.
I just wanted to tell you how grateful we are that Neighborly Home Care stepped in & took over taking care of my Dad when we really needed it, no questions asked. Our caregiver has become part of the family and we know we can depend on her being there every day & taking great care of my Dad. He misses her when she's not there!
— Daughter of an NHC Client
In-Home Care Is Becoming More Popular
When most people think of senior care, the first thought that likely comes to mind is an image of a nursing home. But that image differs from reality. According to the AARP, over 80 percent of adults "desire to remain in their homes and communities as they age and prefer a home setting over a nursing home or other institutional setting."
With the rising cost of nursing homes and other assisted living communities, people's natural desires to remain in their family homes, and seniors' wish to maintain their independence and autonomy, home care services have grown in popularity. The idea of a family moving their elderly loved ones into a nursing home is becoming less feasible for more people by the year, making home care more attractive.
Senior Home Caregiving Is More Involved Than You Might Think
Many people think of home caregiving tasks as helping seniors with bathing or walking around the house, but senior care is much more involved. First, tasks such as transportation and running errands around town are just as much a part of senior caregiving and help with independent living as prepping meals or helping with bathing.
Second, tasks such as providing companionship and other social needs have become a greater focus in caregiving as more is learned about the link between isolation and depression in seniors.
And because each senior has unique conditions, even basic and universal caregiving tasks can change from person to person. Senior care is more than just ensuring seniors are physically safe; the mental and emotional aspects of caregiving's supportive services are just as important.
Family Caregivers Can Struggle Caring for Their Loved Ones
As people care for their loved ones, some will find caregiving stressful and exhausting, especially if the person being cared for has dementia or another serious illness. In a December 2022 article, A Place For Mom stated that "23.7 hours per week is the average amount of time caregivers spend providing unpaid care for loved ones they do not live with; those who live with their care recipient spend 37.4 hours a week."
This is a huge amount of time that people spend caring for their loved ones, and this commitment can lead to stress and burnout (especially if one has to juggle caregiving and a full-time or part-time job.) As a result, many family caregivers are looking toward in-home caregiving agencies to find the best possible care for their loved ones.
Contact Neighborly Home Care for Top-Quality Home Care
We understand that each person's needs are unique, and we strive to provide our clients with the highest quality of care and services. Our caregivers are committed to providing your loved ones the best care and companionship. In addition, we are dedicated to helping them maintain their independence and safety.
Our experienced team of caregivers can assess your loved one's needs and create a customized senior care services plan that meets their needs. Whether your loved one needs assistance with activities of daily living, help with transportation, or respite care, our team is here to help. Contact us today to see how our caregivers can help you and your loved one.