Meet Our Fantastic Team
Tahmir Cook
Recruiter
Tahmir Cook is a Certified Nursing Assistant who was raised in Sharon Hill, PA. Tahmr is what we call a jack of all trades. Currently, Tahmir serves as a Mentor, Youth Director, Nationally Certified Phlebotomist, Certified Nursing Assistant and Recruiter/ Staffing Coordinator with Neighborly Home Care. Tahmir will continue his education at Kaplan University and will be graduating with his Bachelors of Science degree in Healthcare Information Management.
Vicky Herber
Administrator
I am a married mom of two, we moved from the U.K in 2013. Before we moved to the USA, I worked as a Credit Control Manager in a cooperate setting for over 10 years. For the first two years after we moved, I was a stay at home mom, helping my children settle into their new lives. When I decided to return to the workforce I wanted a change in career, to do something were my work had a positive impact on others. I was lucky enough to be taken on by the wonderful people at Neighborly. We work, as a family to try to help our clients remain independent and in their own homes.
Why I love this place
We treat each other as family, we work together, combining our strengths to help our clients. We truly, work our hardest to provide the best care and help for our clients.
Jill Middleton
Client Services Manager
I was born in the state of New Jersey and I currently reside in Roxborough. I studied communications at Florida-Atlanta University in Boca Raton. After graduation, I worked in Philadelphia as a manager at a cancer center. Together with a Master Chef, I helped build and serve an all-organic menu to patients at the center. I also managed the team who served the patients. By ensuring patients were nourished properly, we could help improve cancer survival rates. I was there for two years when a friend told me about a job opening at NHC. After my experience working with cancer patients, I was only considering positions that would have meaning and improve the well-being of others. I liked how NHC was a small growing business that added a tangible value to the surrounding communities.
Why I love this place
I love showing up for work everyday because we have a great team atmosphere and we're always working together to make our programs better. We genuinely care about our clients and when we work to match a new client to the right caregiver, we take it seriously. We try to think of our clients as our own family, as though we're helping our own grandparents. Sometimes our clients are on their own and we become like family to them, they'll call our office just to talk and also to hear about our lives.
Sharon Murphy
Client Services Manager
I was born and raised in England. My parents were living in the U.S. and when I came to visit, they set me up on a blind date with the person who became my husband. I moved to America in 2007 and began looking for an administrative job that would utilize my organizational skills. I had always been in an office and business environment in England. In 2007, I was hired at a local home care agency. From the very beginning, I knew being in the home care industry and having the opportunity to serve the elderly was the right fit for me. Their generation has done so much to help us be where we are today. To me, serving the elderly is not just a job but also a calling. I first learned about Neighborly Home Care when I happened to see a position they posted in the paper. I started working here in 2010 and have never looked back.
Why I love this place
Because we never lose our focus of providing excellent care to our clients, but we are also a forward-thinking organization that thrives on making continual improvements to our business operations. I love getting to know our clients and know that I add value to their lives, whether it's arranging the right caregiver for them or having a phone conversation with them on a rainy day.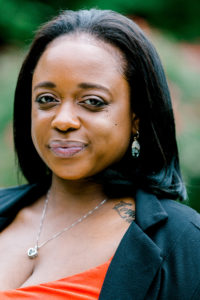 Charnae Peterson
Scheduler
I am a wife and mother of 2 beautiful children, born and raised in Lower Merion, Pa. I attended Blue Ridge College with hopes and dreams of being a Pharmacist; that all changed about 12 years ago when my mother was diagnosed with Stage 4 Renal failure. Once diagnosed she needed full time in home care, it was a no brainer for me to drop what I had planned to take care of my mom. Ever since, being a Home Health Care Provider has been my passion! I have worked for several clients/agencies from Seattle, WA to here in Pa. In 2014 I was seriously injured and unable to be a home health aide hands on; that is when my career as a scheduler began. I was working as a scheduler for a Fire Protection company in West Chester for several years, when the commute began to be too much for me, so what better place to send in my resume than to NHC right around the corner from my home?! In January 2018 I was offered a job with NHC and never looked back!
Why I love this place
Here at NHC we aren't "like family", we are family!! As a family we work side by side to ensure that our clients are beyond happy, healthy and satisfied. It's not just a job or career to us, it's love, compassion and an adventure. We thrive off making sure our clients' needs are met, and that our caregivers feel appreciated and valued.