Challenges in Nursing Homes: Benefits of In Home Care over Nursing Home Care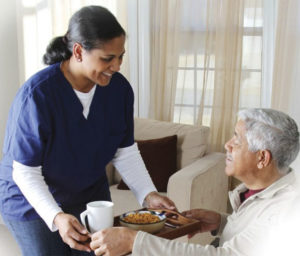 As the public health crisis continues to affect thousands of people, nursing home care challenges have become more apparent. Many of the problems with nursing homes are due to unsatisfactory conditions for senior residents. Those poor conditions can amplify the effects of certain events, such as viruses and infections. And because nursing homes have been hit so hard by the current health crisis, many people are looking toward in-home care solutions. Below are some challenges to nursing home care and some benefits of in home care that make professional home care more appealing than ever.
Challenges to Nursing Home Care & Benefits of In Home Care
Nursing home care faces many challenges, especially now. Nursing home safety standards are often unenforced despite being strong on paper. Nursing homes are frequently understaffed, and the caregivers underpaid. These factors can lead to some nursing homes having an unhealthy environment for their senior residents. These challenges to nursing home care have made people more aware of in-home care benefits.
Unenforced Safety Standards
One of the significant challenges with nursing homes is the lax enforcement of safety standards and protocols. Many nursing homes suffer from a lack of oversight and enforcement. One example would be unenforced standards on infection control, which is especially critical for seniors due to their weakened immune systems and close proximity to other seniors. Nursing homes also lack citations for low staffing, and the penalties for failing to meet stated standards are often small.
In-home care providers offer more personal oversight and enforcement of health and safety standards. The senior under an in-home care provider's care is his/her primary responsibility and the senior's health is paramount. The senior is able to remain at home, having little physical contact with others. Caregivers with Neighborly Home Care are able to run errands and help seniors participate in telehealth visits with doctors so they can avoid going into hospital environments where others are sick.
Underpaid & Understaffed Workers
Caregivers at nursing homes frequently deal with low pay and understaffed conditions. The national average pay for a nursing home caregiver is small enough for many caregivers to work a second job. Staffing shortages put both the senior residents and caregivers at risk by reducing the quality of care to the residents and overworking the staff. In contrast, one of the benefits of in home care is that caregivers with reputable companies like Neighborly Home Care go through a rigorous vetting process, which allows you access to more experienced and qualified caregivers.
Unhealthy Environments for Seniors
Lax enforcement and understaffing problems can lead to unhealthy environments for seniors. An infection or virus can quickly spread in nursing homes due to close physical proximity of residents and the staff. The unhealthiness can be due to a lack of enforcement on health standards. In addition, bullying by other seniors has been a growing national concern. Knowing that your senior loved one is safe at home in the care of a professional caregiver offers great peace of mind.
Contact Neighborly Home Care for Top-Quality Home Care
If you want to avoid the challenges of nursing homes for in-home care, contact Neighborly Home Care. We offer a broad range of in-home care services, including transportation, disability care and respite care. Our highly qualified, experienced, and passionate caregivers are committed to providing for your loved ones' health and companionship needs. Plus, we will work with you to understand your situation and craft a customized plan for senior care services that maximize your loved ones' sense of personal freedom, while keeping them safe. For more information on the benefits of in home care, or our in-home care services, contact us today.
The families we serve keep saying great things.
I just wanted to tell you how grateful we are that Neighborly Home Care stepped in & took over taking care of my Dad when we really needed it, no questions asked. Our caregiver has become part of the family and we know we can depend on her being there every day & taking great care of my Dad. He misses her when she's not there!
— Daughter of an NHC Client