Elderly Care in Bryn Mawr – Proactive Care Decreases the Risk of Debilitating Falls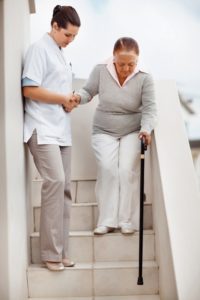 In the United States, 1 of 4 older adults falls each year, and falls are the leading cause of injury and death for these seniors. Brittle bones and fragile bodies put seniors at increased risk of injury from accidents that might only cause bumps and bruises for victims that are only a few years younger. 
Here are a few statistics about falls with regard to  older adults.
In 2020, older adult falls resulted in 3 million emergency room visits
Falls among older adults (over age 65) caused more than 36,000 deaths in 2020
More than 300,000 older Americans are hospitalized for hip fractures each year.
Reduce the Risk of Debilitating Falls For Seniors
Fortunately, you can do several things to reduce the risk of debilitating falls for seniors and improve the care of your elderly loved ones.
Exercise
As the body ages, muscle and bone strength become harder to maintain. Proper diet is an important step, but for elderly care in Bryn Mawr, exercise is just as vital.
A regular walk around the block or through the yard helps your loved one work the muscles needed to stand and move, providing them with the strength they need to maintain their balance.
Vitamin D
In various studies conducted, researchers discovered that seniors with a history of falling who take vitamin D supplements were less prone to falls than the control. Scientists believe that vitamin D improves circulation and nerve response. Consult your senior loved ones' physicians to be sure they can safely take vitamin D supplements.
Diet and outdoor activities are also effective ways of introducing vitamin D into the senior's body. Food and drinks with high concentrations of vitamin D are almost as effective as vitamin supplements, while natural sunlight enhances the body's own vitamin D production.
Proper Medication
Medications for heart disease, cancer, and other serious medical conditions seniors suffer are extremely potent, and require exact doses to be effective. When a senior over or under medicates, the drugs may cause balance issues that lead to falls.
 Elderly care in Bryn Mawr that regulates the intake of medicine for your loved one can play an important role in keeping your loved one on his or her feet.
Doctor Visits
Visits to the primary care physician and the eye doctor are both critical to preventing falls. These medical professionals understand your loved one's situation better than anyone else, so they are in the best position to recommend preventive measures to keep your loved one from falling.
The doctor may advise changing medications, updating your loved one's eyeglass prescription, or using a therapeutic device, like a walker.
With a busy schedule of your own, giving your loved one in Pennsylvania or Delaware the elderly care that he or she needs can be tough. Neighborly Home Care provides the solution with in-home services that allow your loved one to continue living alone, while giving you peace of mind that your loved one is being watched over and cared for.
The families we serve keep saying great things.
I just wanted to tell you how grateful we are that Neighborly Home Care stepped in & took over taking care of my Dad when we really needed it, no questions asked. Our caregiver has become part of the family and we know we can depend on her being there every day & taking great care of my Dad. He misses her when she's not there!
— Daughter of an NHC Client
Neighborly Home Care Offers Professional and Compassionate Senior Care
At Neighborly Home Care, our trained professionals know how to keep your elderly loved ones as safe and healthy as possible, improving the quality of their lives and easing your worries about issues such as proper consistent care or the risk of debilitating falls for seniors.
Contact Neighborly Home Care today for more information regarding Pennsylvania or Delaware elderly care services.