Elderly Care Tips for Cold Weather Preparation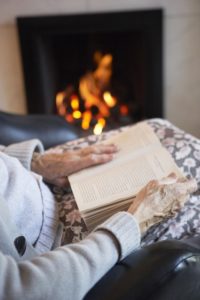 The harsh conditions that come with the cold weather are difficult for everyone to endure, but for seniors and their family members, the winter weather can also be dangerous. Slippery sidewalks are just one of the hazardous conditions that can lead to accidents and falls. Because of this, taking extra care of senior citizens during the wintertime is important. At Neighborly Home Care, we understand the importance of elderly care during the cold season and have outlined some of the things to keep an eye on during the rough winter months.
Maintain Body Temperature
During colder weather, body temperature drops considerably. For elders, this reduction can be more dangerous due to their lack of temperature control and lower subcutaneous fat levels. Failure to maintain body temperature can lead to hypothermia, and those with chronic illnesses such as asthma are at an even higher risk.
To combat the dangers of hypothermia, always make sure that your loved ones are wearing hats, gloves and earmuffs when outdoors. Additionally, consuming hot, easily digestible foods with high calories such as noodles, rice and soup can aid in moderating body temperatures. Exercise is also a great way to generate heat and improve blood circulation, so encouraging an active lifestyle by maintaining a daily exercise routine can help tremendously. These elderly care tips will ensure that your elderly family members and friends are healthy and prepared during the cold months. 
Keep Your Home Safe
Keep up on the maintenance of your home's exterior.  Slippery sidewalks and driveways can be dangerous places for anyone, especially senior citizens who may have difficulty with mobility due to cold weather. Regularly shovel and clean your driveway and sidewalks and top them off with salt to minimize the chances of any falls or accidents. During times of extreme snow or rainfall, be sure your loved ones have enough food and necessary household products such as toilet paper and personal hygiene items so they do not have to leave the house during these dangerous weather conditions.
Invest in Home Heating
Maintaining proper heat levels in the home is a highly important part of elderly care.  Unfortunately, many individuals cannot afford to pay for heating. Assistance programs are available for elders that do not have heating systems or cannot afford it. If you are providing for a senior family member or friend, it may be beneficial to see if you or your family member qualifies for assistance. Furthermore, if they are using supplemental heating units, make sure that flammable materials such as chairs and drapes are more than 3 feet away from the unit, otherwise they become fire hazards.
When providing elderly care, attention to detail is crucial.  During the winter months, however, care providers should be on high alert for any dangers that may pose a threat to a loved one. Colder weather brings about many dangers so make sure to give your loved ones plenty of attention to help them avoid the pitfalls of the cold season. Our staff at Neighborly Home Care understands the dangers of the winter weather for elders and as such all of our services and professionals cater to elder health during these times.
The families we serve keep saying great things.
I just wanted to tell you how grateful we are that Neighborly Home Care stepped in & took over taking care of my Dad when we really needed it, no questions asked. Our caregiver has become part of the family and we know we can depend on her being there every day & taking great care of my Dad. He misses her when she's not there!
— Daughter of an NHC Client