How Home Care Specialists Can Help Seniors Struggling with Parkinson's disease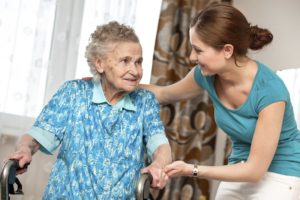 Parkinson's disease is a common disease that many elderly citizens struggle with on a daily basis.
Characterized by the degeneration of the nervous system over time, Parkinson's disease most often impairs individuals from being able to perform basic movement-related activities. A senior with Parkinson's disease may be identified by symptoms including slowness of movement, shaking, slurred speech, rigidity, and awkward gait. Additionally, persons suffering from Parkinson's disease are more likely to suffer from chronic conditions such as Alzheimer's disease and depression.
Unlike other home care agencies, Neighborly Home Care is committed to assisting the elderly with all of their day-to-day needs, especially those suffering with Parkinson's disease. Although Parkinson's disease is not something that can be cured, Neighborly Home Care offers elderly care service that will make life easier for seniors with Parkinson's by ensuring seniors have proper aid for physically demanding tasks, reminders to take medication, and a companion whom they trust. 
3 Ways Home Care Specialists Help Seniors With Parkinson's Disease
Home care agencies, like Neighborly Home Care, can send caregivers who act as:
A Physical Aid Around the House
Seniors with Parkinson's may find it especially difficult to continue living at home alone because they are unable to perform all necessary physical tasks. The debilitating effects, associated with Parkinson's, can alter one's ability to move. Changes in mobility can make the most necessary daily tasks, like cooking and showering, a difficult venture. A caregiver from an elderly care service will ensure that seniors can continue living at home with their help.
A Friendly Reminder to Take Medication
Unfortunately, there is no cure for Parkinson's disease right now; however, by taking the appropriate medication, symptoms can be drastically improved. A caregiver from Neighborly Home Care will ensure  the right amount of medication is taken, and at the right time, to improve your or your loved one's condition and to prevent the onset of dementia.
A Companion to Talk to
Loneliness is an issue that seniors often have to deal with when living at home. Caregivers can offer their companionship to keep individuals who are both suffering from Parkinson's and living alone from getting depressed. Neighborly Home Care's caregiving aids will not only run errands, keep the home safe, and give reminders to take medication, but also serve as a companion with whom you or your loved one can make conversation. Ensuring those who are cared for are engaged, to better prevent depressive thoughts from ever surfacing, is important to the caregivers at Neighborly Home Care.
Contact Neighborly Home Care for Compassionate Home Care Providers
If you are a resident of Ardmore, Delaware County, Bryn Mawr, or Bala Cynwyd, contact Neighborly Home Care today to learn about how the service of a caregiver can benefit you or your loved ones. Contact us for more information.
The families we serve keep saying great things.
I just wanted to tell you how grateful we are that Neighborly Home Care stepped in & took over taking care of my Dad when we really needed it, no questions asked. Our caregiver has become part of the family and we know we can depend on her being there every day & taking great care of my Dad. He misses her when she's not there!
— Daughter of an NHC Client