Medication Safety 101: Practicing Responsible Pharmaceutical Management in Elderly Home Care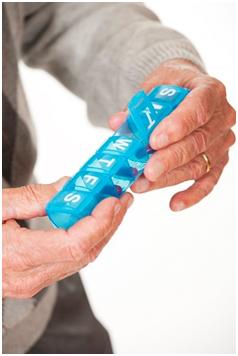 A frequent side effect of aging is that an individual may start needing more medications to maintain their health and quality of life. However, seniors may reach the point that they need help doing so, either because they are reluctant to take the medications or because they are unable to remember to do so. One key aspect of elderly home care is ensuring that seniors are taking the right meds, at the right times, without taking anything that may cause harm.
Neighborly Home Care offers information to keep in mind when helping with senior medications.
Six Tips for Proper Elderly Home Care Medicine Management
1. Always have the doctor's number on-hand
Never guess, or rely on do-it-yourself Internet research. If you are in doubt about any aspect of medications or treatment, call the doctor to be certain of the right course of action.

2. Use day-to-day pill organizers
Pill organizers with separate compartments for each day, or multiple compartments per day, are a perfect solution for many elderly people. Using them removes the burden of keeping track of individual prescriptions – they just need to be aware of the time. You can fill the organizer at the start of a week, which also helps you keep track of when prescriptions need to be refilled.

3. Keep track of prescription expiration dates
Pills are slow to 'go bad', but other medicines such as liquids often have set expiration dates that must be adhered to. Keep an eye on expiration dates to ensure the medicines are safe and effective. Likewise, when medicines need to be refrigerated, be certain to keep them chilled.

4. Be aware of side effects
When possible, ask doctors for a printout of the prescriptions and their known side effects and interactions, so you can be better-informed. When someone starts showing extreme side effects, or exhibiting harmful behaviors, call a doctor ASAP.

5. Never substitute or add medicines without consultation
When a person is on many medications, even commonplace over-the-counter medicines can cause adverse reactions. Never give OTC or herbal remedies to a person under your care without a doctor's OK.
6. Be certain prescriptions are being refilled
Mobility issues can prevent an elderly person from getting prescriptions refilled. Be prepared to help in this task, if necessary. Some medications can be ordered and delivered in the mail.
Call Neighborly Home Care for Elderly Home Care Assistance
If you are providing elderly home care to a senior loved one, you may need to ask questions.
Responsible and caring experts are available to provide support, and take care of services that you may lack the time or energy to provide yourself.
Contact Neighborly Home Care today to learn more about your options in assisted senior home care.
The families we serve keep saying great things.
I just wanted to tell you how grateful we are that Neighborly Home Care stepped in & took over taking care of my Dad when we really needed it, no questions asked. Our caregiver has become part of the family and we know we can depend on her being there every day & taking great care of my Dad. He misses her when she's not there!
— Daughter of an NHC Client