Neighborly Home Care Explains How to Keep Your Loved Ones Active By Combating Negative Excuses with Positive Reinforcements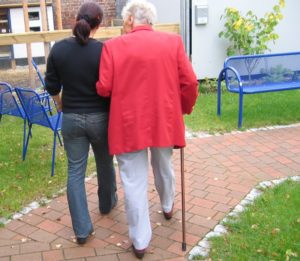 You have probably heard about the psychology of positive reinforcement: when a person does something good, their actions are rewarded, thereby increasing the likelihood that they will continue to perform these actions in the future. Although this technique can potentially be misused, it has shown to have a positive effect on seniors.
As an elderly caregiver, it can often be incredibly difficult to find ways to encourage seniors to exercise and keep at it, but positive reinforcement can be used in a number of different ways to help keep seniors active so they can live healthy and active lifestyles.
For example…
If they say they are too tired…
Remind seniors that regular exercise will actually give them more energy; all while helping them sleep better. Even taking out 10 short minutes from every day to stretch can significantly improve a senior citizen's health.
If they say they are too busy…
Help seniors remember that they need to exercise by setting up calendar reminders throughout their homes. In doing so they will be encouraged to work out whenever they see a calendar and, in turn, be rewarded with natural endorphins.
If they say they think exercising is too boring…
If you are a senior care giver, then part of your job will be to find exercises that your senior actually enjoys. Going for a walk or a run may get boring after a while, so try everything from swimming to aerobics, yoga, or even a dance class.
Contact Neighborly Home Care for Caregivers Who Will Help Keep Seniors Active
To find out more about how positive reinforcement can be used to help seniors exercise and make better positive lifestyle choices or to learn all about our senior care services, visit the Neighborly Home Care website today at: https://www.neighborlyhomecare.com
All caregivers from Neighborly Home Care are certified nursing assistants or have received equivalent training and passed a nurse aid skills assessment test.
Neighborly Home Care wants to make sure that seniors not only get the best possible care at home but also the most affordable. Neighborly Home Care is a leading home care provider in Philadelphia, Montgomery, Bucks, Chester and/or Delaware County. To learn more about our elderly home care services, caregivers, and other initiatives, contact Neighborly Home Care today
The families we serve keep saying great things.
I just wanted to tell you how grateful we are that Neighborly Home Care stepped in & took over taking care of my Dad when we really needed it, no questions asked. Our caregiver has become part of the family and we know we can depend on her being there every day & taking great care of my Dad. He misses her when she's not there!
— Daughter of an NHC Client