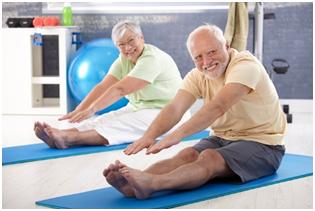 March 29, 2017 – Ardmore, PA – Neighborly Home Care, one of the leading home care agencies in Main Line Pennsylvania, knows many people fail to realize that more options exist for senior fitness today than ever before. Boomers and the silent generation (the group of Americans born between 1925 and 1945) remain highly concerned about their health and mobility, and fitness providers are increasingly offering classes tailored specifically to the needs of seniors.
Some of the options in senior fitness care now include:
Aerobics: These low-impact exercises are a great alternative to more rigorous exercise, while still maintaining muscular and cardiovascular fitness.
Tai Chi: The traditional Chinese practice utilizes gentle movements while emphasizing self-awareness and mental development. The exercise is an increasingly popular alternative to aerobics. 
Cybercycling: One of the newest trends in senior fitness combines high-tech exercise bikes with video game concepts to create an immersive body-and-mind experience that has been linked to increased cognitive activity: an important link has been shown between increased brain activity and decrease in the early onset of dementia.
Swimming: For seniors with mobility or balance challenges, water-based exercise provides many benefits without requiring they stand for long periods.
Silver Sneakers is a program that is finding its way into gyms and community centers across the country. These fitness programs are specifically designed for the needs and abilities of seniors. Silver Sneakers can be accessed at many locations in the Main Line and can be covered by Medicare.
As a home care agency that offers transportation to regular doctor visits and appointments, Neighborly Home Care is happy to assist seniors in attending fitness classes or visiting community centers. By providing transportation services, they can help mobility-challenged seniors maintain a better level of fitness. In turn, they help seniors increase their overall health and stave off symptoms of dementia.
Neighborly Home Care is committed to helping every patient in their care make the most of their senior years, staying happy and healthy.
About Neighborly Home Care
Neighborly Home Care is one of the top home care agencies in Main Line Pennsylvania, offering a full range of elderly care services, from periodic visits to 24/7 in-home care. Neighborly Home Care places a priority on hiring only the best, most qualified, and most compassionate caregivers to ensure that every patient is treated with the utmost respect.
Neighborly Home Care knows that a lot of trust is required to put a loved one in the care of another, and consistently seeks to justify that trust in every interaction. For more information, visit https://www.neighborlyhomecare.com.