Senior Care Experts Neighborly Home Care Highlight 5 Tips for Winterizing Homes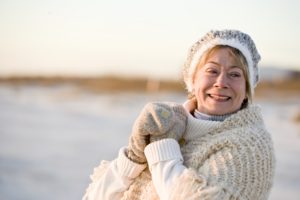 For seniors living in their own homes, the wintertime can be a challenging period of the year. Families should come together during this period to analyze the potential risks within loved ones' homes and ensure their safety during the colder months. In this article, the trusted team at senior care company Neighborly Home Care gives five tips for winterizing homes.
Carefully test the heating system
The home's heating system should reach peak performance throughout the wintertime. The cool temperatures throughout this time of year can cause a range of medical concerns and seniors are among those most at risk. As part of process of ensuring safe senior care at home in the winter, check that the vents are closed in unoccupied rooms.  Less energy is required to heat the rest of the home, lengthening the life of the equipment and lowering winter bills.
Install a programmable thermostat
A programmable thermostat is an ideal option in an elderly person's home. The automated nature of the thermostat can be used to prevent a senior from changing the temperature, thereby keeping those with conditions such as Alzheimer's safe. Before purchasing the thermostat, make sure the product has a lock feature to prevent tampering.
Schedule de-icing and snow removal services
Most seniors will spend some time outside during the winter. Hire someone to remove snow and ice from walks and driveways outside their senior loved ones' homes. This preventive measure can safeguard seniors against falls due to slippery conditions.
Analyze insulation
Insulation is a critical element in keeping seniors safe throughout the wintertime. Ensure that seniors have the optimal level of insulation in their attic and crawl space before the winter begins. This will help prevent warm air from escaping the home. It is also important to consider installing weather stripping around doors and windows at this time, as this can help close up holes around the framing and prevent air leaks.
Make blankets and winter clothing easily accessible
One of the challenges seniors face within their homes is locating winter items such as blankets and winter clothing. Some may have to travel upstairs into attic spaces to find items to keep them warm during cold weather. Protect seniors by ensuring that all the winter items they need are within reach in their living space. Place items such as blankets in living room areas and ensure the senior has all their winter clothing in the area they use to get dressed or bundled up to go out.
By following these tips, senior care givers can help ensure their senior loved ones are protected against cold temperatures this winter. For more information on local area winterization resources, visit http://community.newpa.com/community-services/weatherization/agency-list/. To learn more winter senior care tips, contact the team at Neighborly Home Care today.
The families we serve keep saying great things.
I just wanted to tell you how grateful we are that Neighborly Home Care stepped in & took over taking care of my Dad when we really needed it, no questions asked. Our caregiver has become part of the family and we know we can depend on her being there every day & taking great care of my Dad. He misses her when she's not there!
— Daughter of an NHC Client