The Toll of Caregiving on Adult Caregivers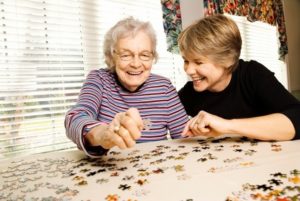 Caregivers offer an invaluable service to society; they provide in-home assistance and even 24-hour home care for the elderly. The caregivers help elderly people with daily tasks that have become too difficult for them to do on their own. In addition, caregivers remind seniors to take their medications and prepare meals according to their dietary restrictions. In doing so, caregivers ensure that seniors live longer and healthier lives. However, the toll of caregiving can be difficult on caregivers.
According to a report by Indiana University, despite the value that professional caregivers offer, "Nearly 10 million adult children are caring for older parents in America. The unpaid care they provide is estimated to be worth $375 billion dollars per year." Neighborly Home Care explains that one reason that so many children are acting as in-home caregivers for their parents is that they think it will be cheaper than paying for expensive nursing homes.
Hidden Costs of Caregiving
Unfortunately, many children underestimate the hidden costs of acting as caregivers to their elderly parents:
Lost Wages
When our loved ones get sick, we will do anything to make them feel better; many family caregivers will quit their jobs to take care of their elderly parents. According to a study by MetLife, "the average caregiver's lost wages (over time) are $143,000."
Difficulty Replacing Job
Family members often think that they will just be helping out for a short time, but frequently the expected few weeks can turn into months or even years. Because of the competitive labor market, caregivers who quit their jobs for months or years at a time may have difficulty finding a comparable job when they begin looking again.
Increased Health Care Bills
Acting as a full-time caregiver is a stressful job that can often be physically and emotionally taxing. According to the Center on Aging, "More than 1 in 10 caregivers say that the role has caused their own health to decline." These health problems can lead to greater expenses, especially for caregivers who have lost their insurance as a result of leaving their jobs to provide 24-hour care to their elderly loved ones.
Loss of Savings
Although becoming a caregiver may sound like a more inexpensive alternative to retirement home costs, National Alliance for Caregiving and Evercare found that, "47% of working caregivers reported having used up all or most of their savings." Expenses can really add up, which can lead to stress about how the caregivers will pay their bills and prepare for their own future retirement.
Contact Neighborly Home Care for Exceptional In Home Care
While taking care of your parents in your home may seem like a good way to save money at first, there are hidden costs to think about. Consider hiring a professional caregiver from Neighborly Home Care; all our caregivers are certified nursing assistants or have received equivalent training and passed a nurse aid skills assessment test. Neighborly Home Care wants to make sure that seniors get the best care possible, and also the most affordable in-home care. Neighborly Home Care is a leading home care provider in Philadelphia, Montgomery, Bucks, Chester and Delaware County. To learn more about our in-home care services, including 24 hour care, contact Neighborly Home Care today.
The families we serve keep saying great things.
I just wanted to tell you how grateful we are that Neighborly Home Care stepped in & took over taking care of my Dad when we really needed it, no questions asked. Our caregiver has become part of the family and we know we can depend on her being there every day & taking great care of my Dad. He misses her when she's not there!
— Daughter of an NHC Client