What Is the Right Solution for Elderly and Disabled Care?
Elderly and disabled care requires specific solutions so that all the needs of those receiving care are met. Unique conditions and disabilities with varying degrees of severity can make finding the right care solution for your loved ones difficult. In home care services provide a way for the elderly and disabled to receive quality care that makes their lives better.
Why Home Care Is the Right Solution for Elderly and Disabled Care
Home care is often chosen for elderly and disabled care due to the quality and range of services. With home care, you can have a comprehensive plan which includes a wide range of care services. You also have more control over which services your loved ones receive to meet all of their physical and mental needs. In addition, in home care can make maintaining a senior's social bonds, both with friends and family, easier. Below are a few reasons why in-home care is the right solution for elderly and disability care.
In-Home Care Is Comprehensive
One significant reason in-home care is the solution for elderly and disabled care is that in-home care is as comprehensive as is needed. Activities of daily living that may be difficult for seniors or adults with disabilities, can be aided by an in-home care provider. Some of these include household chores, meal preparation, personal hygiene, medical oversight, and more. 24-hour care may be needed, or family caregivers may just need care for when they have to be away for work, travel, or other responsibilities. Transportation and errand services allow seniors and adults with disabilities to go where they need to and maintain connections with their community. The wide variety of home care services available from trusted providers such as Neighborly Home Care means that your loved ones will receive quality care, whatever their needs may be.
In-Home Care Is Customizable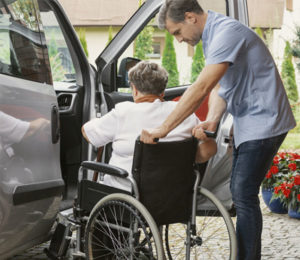 Home care is an excellent solution to elderly and disabled care because each plan is tailored to the individual's needs. Age affects everyone in different ways, so elderly and disability care must address everyone's differing requirements. For example, an older adult living with the early stages of Parkinson's requires different care than one who has advanced dementia. Home care providers can tailor services to each individual, and provide excellent communication with family member so that they can stay informed about their loved ones' condition and make informed decisions about their care. People with disabilities require different levels of care as well to live independently, and home care allows you to make the best plan for your loved one's needs.
In-Home Care Helps Increase Quality of Life
Home care comes with many advantages that offer you and your loved ones greater convenience and peace of mind. Living in a family home makes visits to or from friends and family much more comfortable, and allows for more relaxed visiting routines. As a result, seniors can live more independently and remain socially active in their communities, which promotes better mental and emotional health.
Adults with disabilities often require an array of supports to remain independent, but with assistance, they can often maintain jobs, friendships, and other activities that allow them to feel personal fulfillment.
Home care assistance also increases the quality of life of the loved one's family caregiver. Because a professional caregiver eases your direct responsibilities, you can stay involved and connected to your loved ones while taking care of your other responsibilities. Caregivers are always at risk of burnout, and having professional assistance in the task helps relieves the associated stress. For seniors with and without disabilities, in-home care helps them, and you, remain socially active and comfortable.
Contact Neighborly Home Care for Elderly and Disabled Care Services
Your loved ones can benefit from in-home care services with Neighborly Home Care. We provide in-home care services and care for disabled seniors in Pennsylvania and Delaware. We have a detailed approach to every unique client situation, doing everything in our power to take care of your loved ones. Our team of highly experienced, qualified, and passionate caregivers can provide for your loved one's caregiving needs. For more information on our elderly and disabled care services, contact us today.
The families we serve keep saying great things.
I just wanted to tell you how grateful we are that Neighborly Home Care stepped in & took over taking care of my Dad when we really needed it, no questions asked. Our caregiver has become part of the family and we know we can depend on her being there every day & taking great care of my Dad. He misses her when she's not there!
— Daughter of an NHC Client