Aging in Place Is A Popular Choice for Senior Living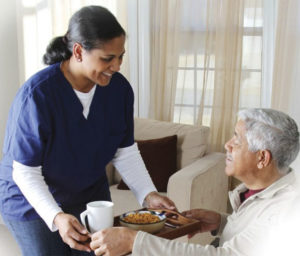 If you have a senior loved one who is starting to have issues maintaining their lifestyle due to aging, you may be wondering what the best living arrangement might be. After all, you have plenty of options. However, if circumstances permit, aging in place is almost always the best choice.
"Aging in place" simply means growing older in one's own familiar home. While sometimes this becomes impossible due to health issues, or mental decline, aging in place is still one of the most desirable options.
Four Reasons Why Aging in Place Is Good for Seniors
1. Home is welcoming and comfortable
As people get older, they often have a harder time adjusting to change in their lives. That which is familiar is comforting, while the unfamiliar can be disorientating. Aging in place means that a senior can be surrounded by all their favorite things, allowing them to lead a life that is as enjoyable as possible.
Even when that means a few slight changes to the home, such as adding assistive devices and accessories, seniors will find this option far less disruptive than moving into a new home.
2. Staying at home allows them to maintain their social network
For many seniors, the most traumatic part of being moved into a nursing home or similar senior care facility is, rather than the loss of their possessions, being cut off from their friends. No longer being able to visit their preferred church or community center, or other meeting-place can easily increase feelings of depression and isolation in a senior.
By staying in their own home, they also get to more easily maintain their existing network of friends. 
3. Aging in place can reduce cognitive decline
Previously, popular wisdom was that a senior should be moved into a care home once they began showing signs of senility. Now, studies are beginning to challenge that notion.  All things being equal, aging at home can help combat cognitive decline. One reason for this is partially through the maintenance of their social networks, as mentioned above – which has been associated with up to a 70% reduction in cognitive issues. 
Additionally, being around familiar objects helps stimulate the memory, and in turn, reduces memory loss.
4. Aging in place is more affordable
Nursing homes and similar facilities are expensive while staying at home is less costly. Even the costs of obtaining in-home senior care can be far less than the costs of living in a dedicated facility. For seniors on a budget, details like this can make a big difference.
Neighborly Home Care Offers Aging in Place Options with Dependable Care
When you want to help a senior in your life experience aging in place, Neighborly Home Care can help.  Contact us for a consultation, and learn more about our senior care services and solutions.
The families we serve keep saying great things.
I just wanted to tell you how grateful we are that Neighborly Home Care stepped in & took over taking care of my Dad when we really needed it, no questions asked. Our caregiver has become part of the family and we know we can depend on her being there every day & taking great care of my Dad. He misses her when she's not there!
— Daughter of an NHC Client