Attempting Long-Distance Senior Care? Bryn Mawr Home Care Provider, Neighborly Home Care, Offers Some Tips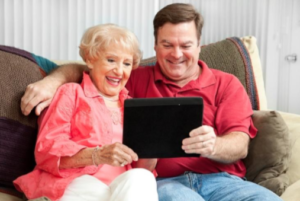 Attempting to provide long-distance senior care to a loved one is a challenging situation that many people in America face.  In fact, nearly a quarter of individuals who are providing care to an older adult are doing so from an hour or more away.
Neighborly Home Care sees this long-distance senior care arrangement often among home care providers of seniors in the Bryn Mawr area.  As a result, the caregiver often endures considerable extra stress. These long-distance caregivers also add significant mileage to their vehicles and pay more for gas expenses.
We have a few suggestions to help those attempting long-distance care make the best of a hard situation.
Five Ways to Make Long-Distance Senior Care Easier
Cultivate local resources
One of the most important aspects of long-distance senior care is having people locally who can act as your eyes and ears, watching out for warning signs you are unable to spot.  Some of the best options are close neighbors, the mail carrier, and local friends who can drop by or look out for suspicious changes.
Keep an emergency resource list on-hand
In an emergency you may have no time for a Google search.  Make sure you have a list of local doctors, dentists, meal services, as well as businesses your senior commonly visits.  Keep a list of these numbers at your home and by the phone of your senior loved one so that they are easily available when problems arise.
Maintain full medical documentation
The names and dosages of the medications your senior loved one is taking are vital pieces of information and immediately necessary if a medical emergency arises. Too much of certain types of medicines can lead to tragic consequences so when treatment is necessary, medical personnel need to know what is already in your senior's system. When possible, have Medical Power-of-Attorney for the senior registered with your senior's doctor/hospital so that you can make medical decisions over the phone if needed.
Research new technology
Some seniors may have difficulty with newer technology, but having a laptop or tablet can make a big difference in maintaining contact, and preventing loneliness and depression.  Modern internet-based services like Skype allow for inexpensive, or even free, voice and video chatting. Seeing a child or grandchild's smile can make a senior's day and the visual aid can help with the confusion that can accompany aging.
Investigate the possibility of hiring professional home care providers
Quality home care providers are available from Neighborly Home Care in Bryn Mawr and surrounding areas. Home care services are less expensive than you might imagine – especially if the senior is on Medicare/Medicaid, which can cover most expenses. Home care can also significantly reduce your travel costs, and put you at ease knowing professional care is always near.
Home care services can provide as little or as much help as needed, from periodic check-ins to consistent in-home care. If you are concerned about long-distance senior care, contact Neighborly Home Care today for a free consultation regarding Bryn Mawr home care services.
This presentation contains images that were used under a Creative Commons License. To see the full list of images and attributions visit:
https://app.contentsamurai.com/cc/32885
The families we serve keep saying great things.
I just wanted to tell you how grateful we are that Neighborly Home Care stepped in & took over taking care of my Dad when we really needed it, no questions asked. Our caregiver has become part of the family and we know we can depend on her being there every day & taking great care of my Dad. He misses her when she's not there!
— Daughter of an NHC Client