Common Caregiver Problems: A Series with Solutions – Part 4 – Your Health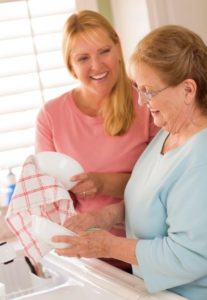 If you are providing care for an older person or an adult with a disability, you are far from alone. The AARP estimates that over 40 million Americans are acting in the role of caregiver for someone, usually a close friend or family member. Unfortunately, most of these caregivers are doing this without proper training or support, and that can cause big health problems.
Due to the stress involved in being a caregiver, those in the caregiver role are at a substantially higher risk for a multitude of health problems, both mental and physical.  On top of that, caregivers often have poor eating habits, lack regular exercise habits, experience loss of sleep, and experience other personal issues that only contribute to their potential health problems.
Our caregiver series has previously touched on vocational stress, emotional stress, and ambiguous loss and anticipatory grief. In this new installment, we highlight how caregivers must remember to properly care for themselves, as well as for the person under their care.
Every caregiving situation is different, but below are some important guidelines to follow to help keep yourself healthy and capable of providing care.
4 Ways to Protect Your Health as A Caregiver
1. Overcome the idea that you are being selfish
Truly, there is nothing selfish about needing to take time to care for yourself.  Unfortunately, many caregivers fall into this trap, thinking that taking "me time" is selfish. However, taking time to rest, recuperate and keep your strength up is what ensures you can continue providing care.  How can you provide care if you have become sick or sleep-deprived?
2. Recognize signs of stress
Stress goes hand-in-hand with almost any activity which is harming mind, body, or soul. Stress can be your "early warning system," letting you know when you are in danger of hurting yourself.  Sleeplessness, irritability, lashing out, and forgetfulness are only some of the signs.  When they arise, take a step back and realize you need to think about yourself too.
3. Go to the doctor
Emotional support is important when being a caregiver, but so is being physically fit.  You should go to your doctor regularly for checkups, and talk about the sorts of care you are providing.  A doctor will be able to offer suggestions for improving your own health, and might have useful advice for your caregiving as well!
4. Know when to ask for help
Few people can handle the rigors of being a full-time solo caregiver without support. Seek help from friends, family, or anyone else who might be concerned about the person you are caring for.  Lightening the load can help you de-stress and stay healthy.
Neighborly Home Care Offers Professional Full or Part Time Senior Care in Philadelphia and Surrounding Areas.
Caregivers of seniors are more effective and healthy with the proper support. For assistance with senior care in Philadelphia, call Neighborly Home Care to learn more about our services.
The families we serve keep saying great things.
I just wanted to tell you how grateful we are that Neighborly Home Care stepped in & took over taking care of my Dad when we really needed it, no questions asked. Our caregiver has become part of the family and we know we can depend on her being there every day & taking great care of my Dad. He misses her when she's not there!
— Daughter of an NHC Client