The Best Senior Transportation Options for Families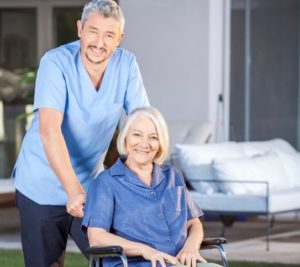 January 17, 2022 – Ardmore, PA –"Crowdsourced" ride-hailing applications like Uber and Lyft are becoming increasingly popular. However, these private transportation and ride services come with several downsides for seniors. Neighborly Home Care's home care providers in Delaware and Pennsylvania want families with dependent elderly loved ones to know about the better senior transportation options.
A Better Option for Senior Transportation: A Caregiving Agency
Whether your senior loved ones live nearby in your local community or live a long distance away, they may sometimes need transportation that you cannot provide. And you want to know that any senior transportation options they choose are safe. Home care providers are about more than just in-home care. They also offer a range of transportation services that enable seniors to maintain independence and safety.
Quality, safe, transportation options for seniors have to meet several requirements, and caregiving agency transportation services do so. For example, many older adults have limited mobility, and some transit systems and services may not accommodate a senior's lack of mobility that well. However, a professional caregiver who understands the client's needs and conditions can provide comfortable transportation that meets those needs.
One example is wheelchair accessibility. Some private or public transit options may lack accessibility for older people with disabilities. Working with a caregiving and home care agency can resolve those issues by ensuring all transportation options meet any mobility or disability needs.
Another reason home care agencies make excellent senior transportation options is because a senior's caregivers can take them wherever they need to go. Seniors need engagement, like going to visit their family members, friends, and community. However, transportation difficulties make socialization challenging for many seniors. A professional caregiver can drive seniors to these places and more, providing easy access to their social circle and other locations to meet their social, mental, and physical needs.
Caregivers can even run errands for seniors, such as buying food at a grocery store or picking up prescriptions or laundry.
Benefits of Securing Transportation through a Delaware County Home Care Provider
The families we serve keep saying great things.
I just wanted to tell you how grateful we are that Neighborly Home Care stepped in & took over taking care of my Dad when we really needed it, no questions asked. Our caregiver has become part of the family and we know we can depend on her being there every day & taking great care of my Dad. He misses her when she's not there!
— Daughter of an NHC Client
Families know the driver. Home care providers will communicate with families so they know who is transporting their loved ones. With ride-hailing, anyone could be providing the ride, and the drivers would likely be different each time.
Emergency training. Does the average Uber driver know how to provide emergency medical care to an older adult suffering a stroke or heart attack? Home care providers are trained to handle medical situations and understand your senior loved one's medical issues. This knowledge will allow them to provide better care and give medical emergency personnel the necessary information if a medical incident occurs.
Companionship beyond the car. A qualified caregiver can accompany your loved ones on shopping runs or even be an advocate/surrogate at medical or doctor's appointments. The caregiver can take notes and communicate vital information to families and doctors.
Even though ride-hailing applications are convenient, Delaware and Pennsylvania home care providers offer the specialty services and protection vulnerable seniors need.
Contact Neighborly Home Care for Transportation Services for Your Loved Ones
If you need senior transportation options for your loved ones receiving senior care, Neighborly Home Care is here for you. Neighborly Home Care is a trusted home care provider in both Pennsylvania and Delaware, offering part to full time senior care with transportation when needed. We strictly screen all of our caregivers to ensure only qualified and compassionate caregivers are allowed into older adults' homes. In addition, our team focuses on constantly providing high-quality support for elderly residents and their families. Contact us today for more information about our services, or for a free consultation.