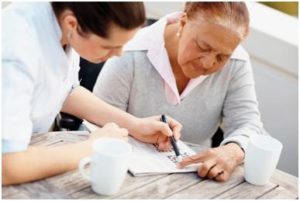 For many who have loved ones with dementia, one of the most painful and difficult issues is simply the matter of communication. How do you talk to them? How can you be sure you are being understood? And most importantly, how do you help them feel like they still have a voice and a say in their lives? Main Line Senior home care provider, Neighborly Home Care offers advice.
Communication is a complicated issue for anyone providing senior home care, whether professionally or as a member of the family. Best practices can vary a lot, because each case of dementia is unique and everyone is affected by dementia a little differently.
However, if you are providing senior home care for a loved one with mental challenges, we have some suggestions to make communication easier and less frustrating for everyone involved.
Tips for Communicating with Those Who Have Dementia
First and foremost, remember that these patients still have thoughts and opinions of their own, even if they may have trouble expressing them.
Use a respectful tone of voice. Avoid talking down to them, or speaking as you would to a child.
Maintain eye contact, which shows respect as well as helps them focus.
Avoid excluding them from conversations, or talking about them when they are in the room without seeking their input.
Have conversations in quiet rooms with a minimum of distractions.
Face patients head-on, and always introduce yourself before initiating a conversation. Even if they know you, they may have trouble recognizing you at first.
Ask "closed" yes and no questions, rather than "open" questions. For example, "Would you like coffee or tea?" rather than "What would you like to drink?"
Encourage nonverbal communication, such as pointing, if they are having trouble finding the right words.
Explore different communication styles. A dementia patient with trouble speaking might be able to type or hand-write messages more effectively.
Pause between sentences or phrases to give them time to digest and respond. Try silently counting to five before speaking again.
Avoid criticizing or correcting them, if you understand their meaning.
Always remain calm and positive – avoid appearing angry or frustrated.
Listen to the emotional content of their responses. Often, the most important aspect is that they know their feelings are being respected.
Sometimes, what truly matters is just being present for them. When having communication troubles, simply share space, and provide emotional support with your company.
Neighborly Home Care Offers the Skilled and Compassionate Senior Home Care you Need
Caring for a loved one with dementia can be an overwhelming task, and can affect your own ability to care for yourself or your family. If you need help, seek senior home care options from trained professionals who can relieve some of your burden. Contact the team at Neighborly Home Care today to learn more about how our caregivers can offer respite to you and compassionate assistance to your senior loved one.