Neighborly Home Care, Provider of Senior Home Care Services in Bryn Mawr Pennsylvania, Brought Fall Flowers to Elderly Residents of the Bryn Mawr Extended Care Rehab Center
Neighborly Home Care, provider of senior home care services in Bryn Mawr, Ardmore, and other communities of the Main Line in Pennsylvania, begins new outreach initiative for elderly residents.
Bryn Mawr, PA – October 31, 2016 – Neighborly Home Care has begun a new outreach initiative in the Main Line area of Philadelphia. Recently several staff members of the senior home care provider visited the Bryn Mawr Extended Care Rehab. The staff members brought flowers and smiles to the residents when they joined the Halloween festivities on October 31. The staff plans to visit other area residential rehabilitation facilities in the coming months.
Neighborly Home Care has been a trusted local presence for years, providing many services to elderly residents. The professional trained care providers come right to the home of residents, assisting regularly with transportation to doctor visits or other errands, meal preparation, and other part time care activities as well as offering the availability of full time care for those who need more comprehensive assistance.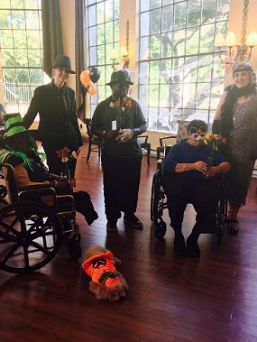 Neighborly Home Care's founder Rod Rhen knows that seniors are often fearful of being forced out of their homes as they age, and sometimes the option of living with relatives is unavailable or unworkable. This new initiative is an effort to get to know the local residents who may need senior home care and let them know that other options do exist for them. As staff member Sharon Murphy says, "We want to promote the services we provide in a non-aggressive way and to see the smiles it brings to the faces of the elderly."
To learn more about senior home care services in Bryn Mawr or other PA communities, contact Neighborly Home Care at www.NeighborlyHomeCare.com.
About Neighborly Home Care
Neighborly Home Care is a provider of senior home care services in Bryn Mawr, Bala Cynwyd, Ardmore and other Main Line communities.  Our care providers, who are all either nurse's assistants or have received equivalent training, are dedicated to making the lives of seniors better, with compassionate care that allows each senior as much independence as is safely possible. Neighborly Home Care offers part time or full time services as well as respite care that can relieve full time family member caregivers when needed. To learn how Neighborly Home Care can help your senior loved ones, call today!
Contact:

Neighborly Home Care
26 Rittenhouse Place
Ardmore, PA 19003
610-658-5822
For more information, please visit: www.NeighborlyHomeCare.com
The families we serve keep saying great things.
I just wanted to tell you how grateful we are that Neighborly Home Care stepped in & took over taking care of my Dad when we really needed it, no questions asked. Our caregiver has become part of the family and we know we can depend on her being there every day & taking great care of my Dad. He misses her when she's not there!
— Daughter of an NHC Client