Neighborly Home Care Recognizes Women in Caregiving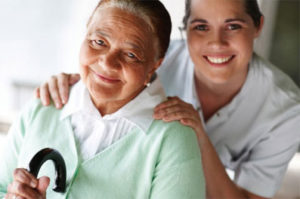 In recognition of the recently celebrated International Women's Day, Neighborly Home Care offers some interesting facts about women in caregiving. As intergenerational housing grows more popular and people live longer, more and more people are acting as caregivers for their friends and family. Over 25 million women are caregivers for loved ones or friends.
The Number of Women in Caregiving
Many organizations estimate that anywhere from 66 to 75 percent of all caregivers are women. Most of those women caregivers provide care and assistance for family or friends aged 50 or older, with about 18 percent of all caregivers supporting two or more adults.
Women caregivers are also likely to be employed and working full-time in addition to their caregiving. Caregiving for a loved one or friend is a labor of love, and many caregivers find fulfillment and satisfaction caring for a loved one.
Caregiving Tasks
Women in caregiving spend various times on a variety of services and tasks. Generally, caregivers spend 13 days each month on daily living tasks. These tasks can all be difficult for seniors to perform for many reasons. Shopping, food preparation, housekeeping, laundry, transportation, and giving medication are all examples of the many daily tasks that women caregivers perform.
Caregivers also usually spend six days per month on other daily routines such as feeding, dressing, grooming, walking, bathing, and assistance toileting. A caregiver can also spend around 13 hours per month on administrative tasks, such as researching care services or information on diseases/disabilities, coordinating physician visits, or managing financial matters.
The services and tasks associated with caregiving depend on the needs of the care recipient. Of family caregivers assisting those with complex, chronic diseases or disabilities, nearly half perform medical and nursing duties. Over 96 percent of family caregivers help with daily tasks and activities.
Supporting Women in Caregiving
Women often take on the role of a loving family caregiver. While these women who provide care for their family and friends do so out of love and find fulfillment in their work, maintaining a healthy balance between caregiving, work, and other responsibilities can be challenging. To help these women maintain their health and life balance, part-time or full-time in-home care is available.
Home care services can provide your friends or loved ones with the needed care and assistance while maintaining their independence and easing your direct responsibilities.
Neighborly Home Care Provides Support for Women in Caregiving
We understand the difficulties that women in caregiving face. Balancing caregiving and other life responsibilities can be stressful. For this reason, as well as our commitment to providing seniors with the fullest experience possible, Neighborly Home Care provides support for those women. Our 24-Hour home care services in Philadelphia help your loved ones live healthy and independent lives. If you are considering helping your elderly loved ones with home care, contact Neighborly Home Care today.
The families we serve keep saying great things.
I just wanted to tell you how grateful we are that Neighborly Home Care stepped in & took over taking care of my Dad when we really needed it, no questions asked. Our caregiver has become part of the family and we know we can depend on her being there every day & taking great care of my Dad. He misses her when she's not there!
— Daughter of an NHC Client