NHC Senior Care in Philadelphia Offers 4 Ways to Stay Active This Spring!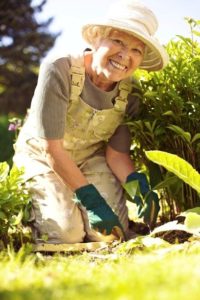 When you are involved in senior care in Philadelphia, PA, you know how hard encouraging seniors to stay active during the long cold months can be. Fortunately, the weather is finally starting to warm up! That is good news because uncountable studies have linked senior physical fitness to healthier living and a better quality of life.
4 Great Springtime Activities for Seniors
Every senior is different, but plenty of options exist which afford seniors at all levels of mobility a chance to enjoy the spring sunshine.
Gardening
Gardening might seem like a pleasant hobby rather than exercise, but the pastime is actually quite good as a cardiovascular activity. Since spring is planting season for many common herbs and vegetables, this is an excellent opportunity to get outside and work the soil. A garden gives seniors something they can care for throughout the season.
If the senior in your life has issues with his/her knees or back, look to create tabletop plantings which allows them to avoid stooping or bending over.
Walks in the Park
Sometimes the classics are still the best. For many seniors, simply going for a walk can be excellent exercise, and allows them to get out into the sunlight and fresh air. When a park is nearby, take advantage and plan a visit. As a plus, your senior loved one may meet new acquaintances.
Dancing
Does your town have a senior center? If so, they may offer dancing at least one night a week. Dancing is a great activity for seniors because the pursuit helps them stay mobile, and is another excellent opportunity for socialization. A senior with plenty of friends is likely to maintain good mental health, alongside his or her good physical health.
Tai Chi
An increasing number of seniors are turning to Tai Chi for exercise, which is a good thing.  Tai Chi is basically a very low-impact form of martial arts, one which could be described as "controlled stretching." Studies have shown this type of exercise is far better for the body than typical stretching.  Look to see if any Tai Chi groups are available in your area, or maybe even think of starting your own.  You can find plenty of training videos on YouTube.
Need Help with Senior Care in Philadelphia? Neighborly Home Care Is Here!
Neighborly Home Care is focused on providing top-quality care, from rigorously vetted and well-compensated staff. We always seek to provide maximum independence to seniors, while caring for their needs and ensuring their well-being. Contact us to learn more!
The families we serve keep saying great things.
I just wanted to tell you how grateful we are that Neighborly Home Care stepped in & took over taking care of my Dad when we really needed it, no questions asked. Our caregiver has become part of the family and we know we can depend on her being there every day & taking great care of my Dad. He misses her when she's not there!
— Daughter of an NHC Client