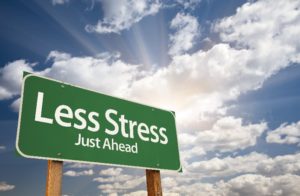 One of the most important aspects of senior care is simply helping seniors to prevent stress in their lives. As people age, many lose the ability to deal with stress as well as they once did, and stress weakens the immune system. Since seniors are already at greater risk of disease, high levels of stress can be truly sickening.
Neighborly Home Care offers some tips to help those who are providing senior care to a friend or family member recognize common stresses in a senior's life, and deal with them.
Reducing Stress in a Senior's Life
Money/Budgeting
Just as with younger people, cash flow is a constant source of worry for many seniors. Additionally, as a person gets older, they often have a hard time dealing with abstract activities such as balancing a check book.
The best solution is to get involved with their finances. Offer to help with the budgeting and bill paying. Having a younger and more agile mind handling their bookkeeping will take a big weight off their shoulders and allows you to protect them from scams or even over-spending.
Physical Challenges
As the body ages, things that were once easy become increasingly difficult.  When this occurs it can be a significant source of frustration, especially if mobility or movement issues are preventing older seniors from enjoying activities, or interfering with their ability to care for themselves.
Often, some home re-arrangement can help, both in making things easier for your seniors and in keeping them safe.  Try to move everything important to the ground floor, or consider investing in appliances that require less dexterity to operate.
Boredom
Yes, boredom is a significant stressor, and one that can easily hit those of advancing age. Maybe they are retired and lack a sense of purpose. Maybe disabilities prevent them from enjoying hobbies. Maybe too many of their old friends are passing on.  Whatever the reason may be, sitting in front of the TV all day will only increase the boredom.
The best option is to help them find things to do. Look into whether there are local senior centers nearby that offer the activities your senior cares about. Suggest hobbies that are within their abilities. Find out if the local community college, or similar organization, offers any free seminars or night classes they could attend.
Above all, simply be there for them, because loneliness can also contribute to their problems. Listen when they need to talk and enjoy the time you are able to spend with them.
Senior Care Help Is Available If You Need It!
When providing care to seniors, help is available. Neighborly Home Care employs licensed experts in senior care, and can provide a wide range of services based on the needs of the senior in your life.
Contact Neighborly Home Care today for more information at 610-658-5822.
****
Neighborly Home Care is a leading provider of in home care for seniors in Philadelphia, Montgomery, Bucks, Chester and Delaware Counties. Our caregivers are all certified nursing assistants, or they have received equivalent training and passed a nurse aid skills assessment test.
This associated presentation contains images that were used under a Creative Commons License. For the full list of images and attributions, visit: https://app.contentsamurai.com/cc/22065