Signs Your Elderly Loved One May Be Unfit to Drive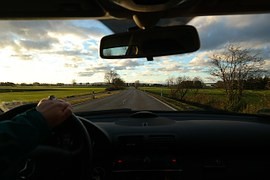 Senior citizens face many serious problems when driving. Aging slows reaction times and reduces vision, especially at night. As a result, drivers over the age of 70, especially those 85 and older, have the highest rate of fatal accidents in the United States. In 2018, nearly 7,700 older adults (age 65+) died in traffic crashes, while around 250,000 were injured. Almost 700 seniors per day are injured due to traffic crashes. As a caregiver, be alert for these early warning indicators that an elderly loved one may be unfit to drive, and it may be time to hire senior care to take over driving duties for your loved one.

Confusion about Traffic Signs
One of the first signs that an elderly loved one may be unfit to drive is confusion about traffic signs. Your loved one may attempt to be overly careful by stopping at intersections where there is no stoplight or stop sign. Seniors may run through intersections without noticing stop or yield signs or have delayed responses to the traffic signs. Confusion about traffic signs puts every driver on the road at risk and may lead to severe injury or death.
Calls for Directions
Memory loss is common during the aging process, and sometimes even the most routine tasks become challenging. The memory loss often becomes evident when your loved one struggles to find their way home from someplace they know well or forgets routes to locations they have frequently visited. They may also forget street names or landmarks. When memory loss occurs on the road, your loved one may respond with panic or irrational decisions.
Unexplained Damage
A sudden increase in dings and minor damage to your loved one's vehicle or property (such as a mailbox) is another warning sign your elderly loved one may be unfit to drive. Unexplained vehicle damage may indicate that he or she is unable to navigate the tight turns in a parking lot or accurately judge distance. Your loved one's driving abilities will only continue to degenerate, which could lead to physical injury or worse.
Hesitancy to Take a Driving Exam
Many states require seniors to take driving exams more frequently once they reach a certain age. Your loved one may know that they are incapable of passing the test independently, so they hesitate to take the test; some may even attempt to continue driving without a license. You should make arrangements for a driver and possibly other senior care if your loved one is unwilling to taking a driving test to renew an expired license.
Other Warning Signs an Elderly Loved One Unfit To Drive
In addition to the warning signs listed above, here are other signs or behaviors to look out for with your senior loved one and whether they will need more transportation assistance.
Delayed response to unexpected traffic situations
Becoming easily distracted while driving
Having difficulty moving into or maintaining the correct lane of traffic
Driving too fast or too slow for road conditions
Seniors may find the loss of independence associated with the inability to drive frustrating and isolating.
To ensure that your loved one is safe behind the wheel and assure others' safety on the road, be aware of these potential problems. If possible, talk about them in advance and discuss alternate transportation options that allow seniors to maintain some independence and travel wherever they need to go. Local senior centers may have shuttles, or a neighbor could offer some assistance if you are too far away or otherwise unable to drive them. A senior care service can also provide transportation to doctor visits and more on a regular basis.
Contact Neighborly Home Care for Transportation & Other Care Services
Neighborly Home Care offers excellent senior care in Delaware and Pennsylvania. Through a suite of in-home services, Neighborly Home Care's trained professionals provide supplemental support that increases the quality of life for your loved ones and helps to keep them safe. Senior driving services from Neighborly Home Care ensure that your elderly family members can make every doctor's appointment, attend every social engagement, and complete every errand, even when you are unavailable to do the driving yourself.
Contact Neighborly Home Care today at 610-658-5822 for more information about in-home elderly care services.
This presentation contains images that were used under a Creative Commons License. To see the full list of images and attributions visit: https://app.contentsamurai.com/cc/32885
The families we serve keep saying great things.
I just wanted to tell you how grateful we are that Neighborly Home Care stepped in & took over taking care of my Dad when we really needed it, no questions asked. Our caregiver has become part of the family and we know we can depend on her being there every day & taking great care of my Dad. He misses her when she's not there!
— Daughter of an NHC Client