Senior Care Leader Neighborly Home Care Highlights 5 Tips for Keeping Seniors Safe Inside and Outside the Home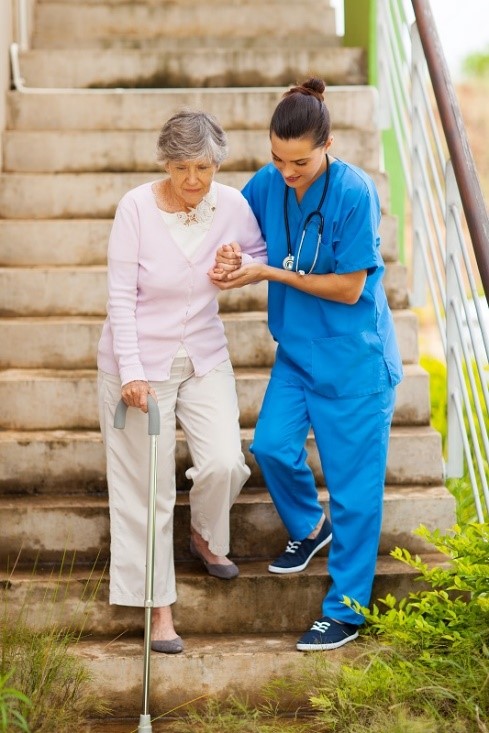 Seniors are highly vulnerable to slips, falls and other safety issues within their home properties. Family members need to understand and respond to relevant safety issues. By doing so, they can help their senior relatives achieve a semblance of independence and allow them to live within their own homes for as long as possible. In recognition of this past June's National Safety Month, the team at Neighborly Home Care highlights their top five tips for keeping senior family members safe inside and outside their homes.
Senior Care In-Home Safety
Install Grab Bars in Bathrooms
The simple installation of a grab bar in a shower space can help prevent falls in the shower, which are a leading cause of injury to seniors across the United States. Grab bars can often be found at local hardware stores and bathroom equipment suppliers, and should only take a short time to integrate within the bathroom space.
Place Ramps over Stairs
Families can help their senior loved ones to navigate stairs at home by placing ramps over the area. This is ideal for those who might prefer the stability of a wheelchair for moving around the home. Ramps might also make it easier for seniors to use their walkers to move up and down stairs.
Add Handrails to Front and Rear Steps
Seniors require additional support when making their way inside and outside their homes. Placing hand rails over front and rear steps can help reduce the potential hazards for seniors and allow them to comfortably make their way around their properties.
Check Driving Capabilities Regularly
Families need to pay close attention to their loved ones' driving capabilities. Those in charge of a senior family member's care should ask their senior relatives how often they have their vision tested. Regular checks ups are now required to ensure they have proper prescriptions for glasses or contact lenses. Seniors should only operate a vehicle when driving conditions are good. Ice and rain can make it difficult for senior drivers to control their vehicle safely so families should make sure senior relatives have a driver available if they need transportation during times of inclement weather.
Consider In-Home Assistance
Relatives of seniors often find it challenging to know how best to take care of them. Many of the medical challenges facing seniors require the assistance of a specialist. Families who are finding it difficult to manage their senior loved one's needs may consider hiring an in-home assistant. The assistant can help with processes such as medication reminders and walking from one area of the property to another to ensure safety.
Call Neighborly Home Care for Quality Senior Care
Exceptional senior care requires a comprehensive understanding of the senior's day-to-day challenges. To learn more on how to ensure a high level of care for senior loved ones, contact the team at Neighborly Home Care directly at 610-658-5822 or visit their business website at https://www.neighborlyhomecare.com.
The families we serve keep saying great things.
I just wanted to tell you how grateful we are that Neighborly Home Care stepped in & took over taking care of my Dad when we really needed it, no questions asked. Our caregiver has become part of the family and we know we can depend on her being there every day & taking great care of my Dad. He misses her when she's not there!
— Daughter of an NHC Client