Are Seniors Safer At Home?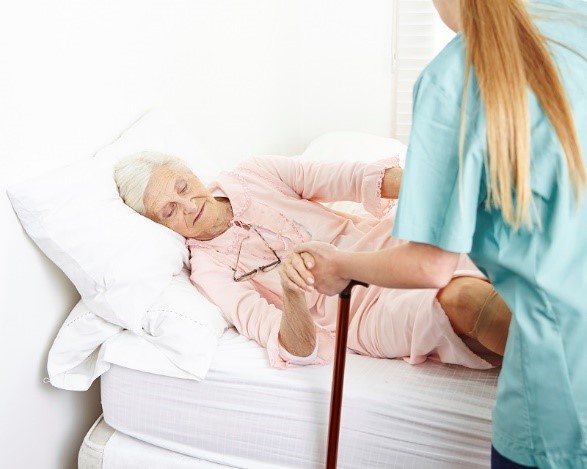 Are seniors safer at home? Most seniors would prefer to be at home in familiar surroundings for the sake of comfort. Health scares like the COVID-19 virus illustrate why seniors are safer at home. They are more vulnerable to sickness and injury, but at home with family or a professional caregiver, they receive personalized protective care.
As people age, their immune systems become weaker and more vulnerable to infection.
Being around large numbers of people, some of whom may be vulnerable to or even carrying infection, is a concern during these times and increases the risks for everyone involved. But if a senior is at home, under the care and guidance of a professional caregiver, the chances for exposure to sickness is reduced.
Professional in-home caregivers exercise the utmost caution and safety to keep everyone safe. For health scares such as COVID-19, caregivers regularly wash their hands, wear masks, and look out for symptoms both in themselves and their patients and clients. Caregivers also help seniors with other physical tasks, such as transportation or navigating their family home. These practices, combined with staying at home, help ensure that seniors are safer at home.
Other Benefits to Seniors Being At Home
Some other reasons why seniors benefit from being at home relate to maintaining a sense of familiarity and comfort. The significant changes from events such as COVID-19 can cause a higher stress level for all people, and especially the elderly. In times of distress, people search for comfort and familiarity, and a family home can provide both for seniors.
In a senior's own space, he/she can practice hobbies that soothe them, such as gardening or walking in the yard. Professional caregivers can ensure that seniors stay active at whatever level they can physically handle, and provide a friendly familiar face who can help with tasks and offer companionship. Social isolation is a problem for the elderly, and these times highlight how meaningful maintaining social connections and bonds are for seniors. Technology such as video chatting is one method of remaining in touch with loved ones while helping to keep seniors safer at home.
Call Neighborly Home Care to Learn How Home Care Keeps Seniors Safer At Home
Health scares such as COVID-19 are difficult for everyone, especially for those most vulnerable. Many people's elder loved ones are at-risk, but home care can provide the needed care in the safety of seniors' own homes. Neighborly Home Care is committed to providing seniors with the skilled care and companionship. Our care programs are comprehensive and personalized to each client. To learn more about how home care keeps seniors safer at home, contact us today to learn how we can help your loved ones.
The families we serve keep saying great things.
I just wanted to tell you how grateful we are that Neighborly Home Care stepped in & took over taking care of my Dad when we really needed it, no questions asked. Our caregiver has become part of the family and we know we can depend on her being there every day & taking great care of my Dad. He misses her when she's not there!
— Daughter of an NHC Client