Neighborly Home Care Discusses 5 Aging in Place Concerns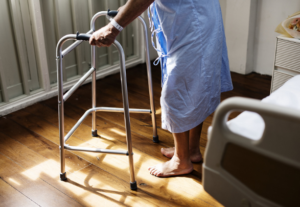 If circumstances permit, aging in place is often desirable for elderly loved ones. "Aging in place" means growing older in one's own home. However, people understandably have aging in place concerns, as many are unsure how their loved one's lifestyle will be affected by physical and mental changes associated with growing older. Some concerns many have about their loved ones aging in place, and how to address them include:
1. Safety
One of the most significant aging in place concerns people have for their loved ones is safety. Safety covers a wide range of issues, from tripping and falling hazards to getting sick. Seniors with memory issues or who are facing the onset of dementia can get confused and possibly put themselves in danger. Scam artists prey on vulnerable seniors. In addition, hygiene and proper nutrition can be neglected by seniors as they age. Thankfully, many of these concerns have solutions. For physical security, adding grab bars or securing carpets and rugs can significantly reduce the chances of falling. Care service agencies can provide home care with around-the-clock supervision and help to maintain the safety of each client. The home care can be 24 hour or just during the most vulnerable times of day, bathing, cooking etc.
2. Transportation
Transportation is always an issue with seniors and is a significant aging in place concern. A professional caregiver can drive seniors to their destinations like visiting friends or attending a doctor's appointment. And if needed, the caregiver can even run errands themselves while the client stays at home. Accessible transportation is key to maintaining social relationships and a sense of independence and freedom.
3. Mobility
While many seniors prefer to age in the familiarity of their own homes, some changes may be necessary to ensure that they can get around safely. Home modifications can include additional lighting, new safety features in the bathroom, new flooring, or ramp installation. Every senior has a unique home and needs, so the proper changes will vary.
4. Loneliness
Loneliness is a significant problem for seniors whose families may be far away or busy with jobs and children. Friends may be out of reach without transportation. Those losses of social relationships can lead to isolation and depression. When aging in place, seniors can maintain their connections to people and take comfort from being in their long-time residences. To combat the loneliness a caregiver can provide companionship as well as provide transportation to senior events or to visit friends.
5. Access to Reliable Assistance
For many people, caring for elderly loved ones while simultaneously balancing other responsibilities is a real challenge. Jobs, young children who need care, health challenges and distance can mean that family members are unable to provide the needed level of care to seniors. These family members still want to ensure that their loved ones receive quality care. Home care services can fill the gap and be both personalized and comprehensive. Neighborly Home Care considers every need of the individual and their families when matching them with the right caregiver and services, and when families are unable to be present, our caregivers are available to help.
Neighborly Home Care's Services Address Your Aging in Place Concerns
We recognize that those with elderly loved ones have aging in place concerns, and want the best for their elderly family members. When you a senior in your life wants to age in place safely, Neighborly Home Care can help. Our 24-hour home care services highlight our commitment to providing seniors the best care possible. Contact us for a consultation and learn more about our senior care services and solutions.
The families we serve keep saying great things.
I just wanted to tell you how grateful we are that Neighborly Home Care stepped in & took over taking care of my Dad when we really needed it, no questions asked. Our caregiver has become part of the family and we know we can depend on her being there every day & taking great care of my Dad. He misses her when she's not there!
— Daughter of an NHC Client