Senior Care in Philadelphia, PA
Turn to Neighborly Home Care for Senior Care in Philadelphia You Can Trust

If you have an older loved one in your life who is beginning to need some help in their day-to-day lives, in-home senior care is often the best choice.  Senior care in Philadelphia allows your loved ones to stay in their home, with all their cherished memories and possessions, while still getting the help they need.  They can be attended to by highly-trained and well-vetted senior care specialists, whose job is to provide whatever help your loved one might need: preparing meals, doing chores, running errands, even going on trips to the doctor. Our goal is to help your older loved ones continue to enjoy their current lifestyle, without being at risk due to the frailty of age.
Your Options in Senior Care
Senior care in Philadelphia requires personalized services, so each person receives the individualized care that they require for optimal health and fulfillment. Our care can come in several different forms.
Part Time Care:  The best option for seniors who are just starting to have issues in their day-to-day lives.  Once a day, or possibly just a couple of times per week, a caregiver visits to handle any tasks or chores they are having trouble with.
Companion Care:  Has your loved one began to have issues getting around, and needs someone to watch out for them when driving or running errands?  Companion care can provide the friend they need – a friend who understands how to best care for the needs of seniors.
Full-Time Care:  In-home senior care can provide all the same services as a nursing home, with none of the trauma, including around-the-clock care and medical attention.
Respite Care:  Respite care is short-term care which allows you to take a break from caring for an older loved one.  Respite care takes over for you, so you can get much-needed rest.
Neighborly Home Care is here to provide the care your senior loved ones need, in whatever form that takes. From weekly visits to around-the-clock supervision, we want your loved one to be as happy as possible.
Time for Part-Time Care?
The idea of bringing on a caregiver can be difficult for some seniors, who value their freedom and independence.  Part-time senior care can be a good compromise in these situations, allowing the senior to receive a little help, without sacrificing their overall autonomy.
Many signs can indicate that part-time care may be called for. Such signs can include: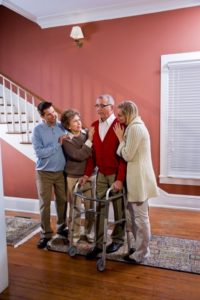 Difficulty with tasks that require manual dexterity, such as cooking meals or folding laundry.
Loss of interest in hygiene, bathing, and grooming.
Increasing trouble navigating stairs, particularly important when appliances such as the clothes washer/dryer are on other floors.
Trouble managing finances, evidenced by unpaid bills or overdrawn accounts.
Failure to keep up with medication or allowing prescriptions to go unfilled.
Occasional memory lapses, such as forgetting important chores or appointments.
Withdrawal from friends or family, becoming unsociable.
Old age is experienced differently by each person, and it will affect everyone differently. A care plan can be customized to only address the challenges being faced by that individual while leaving them free to enjoy the rest of their lives as they like.
Companion Care Can Bridge the Communication Gap for Families
When families of seniors live far away, or are just unable to get away from work for doctor visits, companion care can provide them with vital information. Even if regular part-time care is unnecessary for safety at home, having a companion for irregular activities, like social outings, or doctor visits can be very beneficial.
Our caregivers can provide transportation to doctor visits and accompany seniors into appointments to take detailed notes. Even younger patients keep important details from their doctors, and a companion can be sure to fill in the blanks with any pertinent information provided by the family or the senior in advance. Seniors may have trouble remembering all that was discussed at doctor visits, due to anxiety or confusion, so having detailed notes can help family members stay informed about health issues and allow them to make good choices regarding future care.
Full-Time Senior Care in Philadelphia Keeps Your Loved One Happy
Senior care can also be a viable alternative to moving to a nursing home. A move can be extremely traumatic for seniors because they are required to leave so much behind – their possessions, their pets, their friends, basically their entire known and comfortable environment.  We so often hear from families who feel like they are stuck between two bad choices.  They know their loved ones are simply not able to care for themselves alone, but they are unable to bring themselves to force that loved one to move to a nursing home.
In-home care is a great solution.  Neighborly Home Care can provide all the assistance your loved one needs to be safe and sound – while still living in their own home.  When necessary, this service can involve around-the-clock care, with multiple shifts, helping in every aspect of your loved one's life.
With full-time care, the daily routine is undisrupted.  They can still enjoy life in their home and maintain a lifestyle that is as close as possible to what they have been used to.  Your loved one simply has a new friend – or several friends – dedicated to keeping them safe and healthy.  Their meals will be prepared, they will be reminded when to take necessary medications, and their daily chores will cease to be a major issue.  As part of full-time care, we can drive them to where they need to be and provide the companionship they need throughout the day.
Choose Respite Care to Protect Yourself
When you or other family members are providing care to an older family member, you are placed in a stressful situation.  Being a caregiver is a role which can wear one down, especially when one is also balancing work and family, and over time, numerous psychological or even health problems can result for the caregiver.
Respite care allows you to take a break.
For a few days, or up to months, we can step in and seamlessly take over for you while you get some "me" time.  Respite care is also an excellent option when you have other matters to attend to, such as job functions, or a need to receive health care of your own.  We will work with you to understand your current role as a caregiver and replicate that so that there is minimal disruption to the life of your loved one.
When you have attended to your own needs, you can return and be even more effective as a caregiver!
Why Choose Neighborly Home Care to Protect Your Elderly Loved One?
We know that trusting someone else with the care of your loved one can be difficult. We have provided the Philadelphia area with quality senior care for years.
At Neighborly Home Care, we go above and beyond with our screening and vetting process.  We demand a higher level of skills and experience from our caregivers. We require our staff to be Certified Nurse Aids (CNAs) or have equivalent certifications, and that they pass stringent background tests. In fact, out of all the people we interview, we hire only around twenty percent! We also reinforce this desire for quality by offering our staff higher wages than the industry average, as well as flexibility and other desirable benefits.
We demand quality care, and we pay well so that only qualified individuals will be allowed into the home of your loved one.
The desire to provide excellent care also shows in our service offerings.  We genuinely desire to preserve the independence and freedom of the people in our care.  We will work with you, and with them, to develop a comprehensive care solution that encompasses all their needs, while still allowing them to enjoy their own lives at their own pace.
Philadelphia in-home senior care is better for them and can be better for you.
Whether your loved one only needs a little help or needs full-time oversight, contact Neighborly Home Care today for a free initial consultation about your options.