How Green Spaces Can Be Beneficial To Senior Health in Philadelphia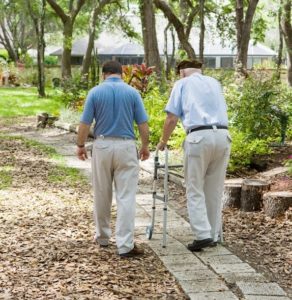 If you are providing care for a senior in Philadelphia, we ask: when was the last time he/she got to explore a green space?
Whether in a backyard garden, a local park, or on a trip out to the countryside, visiting green spaces can be extremely helpful for the mental health of seniors – which can translate into improved physical health as well.  Numerous studies have investigated the link between nature and human well-being, and they all agree that spending time in green spaces is good for anyone, seniors included.
When you can find a way to encourage the elderly people in your life to visit green spaces, they will likely see numerous senior health benefits. These include:
Improved Mental Health
While science is still at a loss to explain the exact mechanism, many studies have shown genuine psychological improvements among people who spend time in green spaces.  Visiting nature reduces stress, decreases depression, and has even been shown to improve cognitive function. These are common issues that impact senior health.
Better Physical Fitness
Any activity which helps seniors get out and about will improve their physical fitness, and a visit to a garden or park or forest is no exception. For seniors who have difficulty with traditional exercise, simply going for a walk in a green space can be excellent exercise, as well as improve their cardio-vascular health.  Being in close proximity to clean oxygen-producing plants may help their respiratory systems as well.
Increased Social Connections
When you are out and about in a green space, you are likely to run into other people.  So, these sorts of excursions are a perfect way to help seniors meet new friends.  Loneliness is a huge problem for many seniors and tends to lead to depression and other mental issues.  Encouraging a senior to be social helps them remain engaged with the world, and excited about the prospects of going out.
Gardening Creates Positive Attachments
Some seniors may lack the physical fitness to garden, but if they can, gardening is one of the best all-around activities they can engage in.  They get to visit with nature while getting exercise.  Better yet, this activity gives them something to care for.  They can look forward to watching their garden grow and thrive, and enjoy the fruits of their labor once the time comes to harvest.
Neighborly Home Care Offers A Range of In-Home Services that Benefit Senior Health
We are a trusted local provider of services for seniors in Philadelphia, with a vetted employee roster of home care providers.  We focus on in-home care and senior health, helping seniors with their day-to-day needs, while allowing them as much independence as possible.  We want to help seniors maintain their daily routines. 
The families we serve keep saying great things.
I just wanted to tell you how grateful we are that Neighborly Home Care stepped in & took over taking care of my Dad when we really needed it, no questions asked. Our caregiver has become part of the family and we know we can depend on her being there every day & taking great care of my Dad. He misses her when she's not there!
— Daughter of an NHC Client