Medicaid vs Long-Term Care Insurance in Philadelphia Elderly Care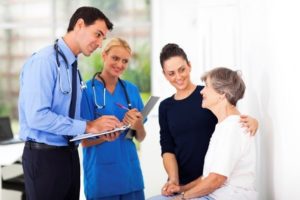 In the event you are providing elderly care in Philadelphia, you may be called upon to help with a wide variety of tasks for the senior in your life – and one of those tasks may be helping them make decisions regarding insurance.  Deciding whether Medicare/Medicaid or private long-term care insurance will be better can be difficult – particularly when they offer different benefits.
As a general rule, private care insurance will offer you more options and cover more forms of elderly care.  However, this type of insurance is also generally more expensive.  Here are a few specific things which are worth knowing.
Qualifying for Medicaid Or Long-Term Care Insurance
In most cases, the qualifications for either Medicaid or private long-term care insurance are roughly the same.  The senior must be unable to perform at least some of the activities of daily living (sometimes abbreviated as ADL).  The areas which will be looked at are:
Walking
Dressing
Feeding
Bathing
Transferring
Toileting
If the senior you are caring for is unable to do at least two of those things without assistance, chances are they would qualify for either Medicaid or private insurance.
Medicaid vs Private Long-Term Care Insurance: What They Cover
When you come to the question of what Medicaid covers, the answer can be tricky because every state has different programs for disbursing Medicaid funds.  However, broadly speaking, you can assume that Medicaid will cover stays in a nursing home – but that might be all.
Most private insurance has limited coverage for nursing homes.  Due to the expense and the permanence of moving into a nursing home, obtaining coverage can be difficult at times.  However, this is something Medicaid often will pay for.  Some nursing homes refuse to accept Medicaid. You should ask about this detail early on in your selection process.
On the other hand, what if you are looking towards in-home care or other alternatives to a nursing home?  In that case, private insurance is usually the better option.  Private long-term care insurance can provide policies which do include issues such as in-home care, adult day care, or even respite care.
Of course, every private insurance company has different policies.  When you are trying to avoid placing your loved one in a nursing home, we recommend contacting many insurance companies and getting detailed information about what they cover. The information will give you a good basis for deciding what type of policy to take out.
Neighborly Home Care Provides Top-Quality Elderly Care in Philadelphia!
We are committed to providing excellent in-home care, while also preserving the personal autonomy and dignity of your senior.  To discuss our services, contact Neighborly Home Care.
The families we serve keep saying great things.
I just wanted to tell you how grateful we are that Neighborly Home Care stepped in & took over taking care of my Dad when we really needed it, no questions asked. Our caregiver has become part of the family and we know we can depend on her being there every day & taking great care of my Dad. He misses her when she's not there!
— Daughter of an NHC Client