Physical Exercise Can Strengthen the Brains of Seniors Receiving Home Health Care Services in Philadelphia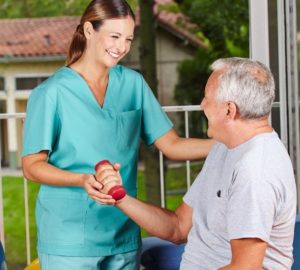 When providing home health care services in Philadelphia to seniors, one of the most important goals is helping to keep both their minds and bodies healthy.  As research shows, these things are more directly connected than many people realize and studies have shown that physical exercise has cognitive benefits, strengthening the brains of seniors. When you are providing home health care services in Philadelphia, always put a strong emphasis on helping your loved one maintain an exercise program suitable to his or her abilities. 
The Link Between Exercise and The Mind
So, how does physical exercise improve cognitive functioning?  The main reason is a protein in the brain and nervous system known as Brain-Derived Neurotrophic Factor (BDNF). BDNF is part of a family of growth factors which all contribute to the growth and longevity of the brain's neurons. BDNF, in particular, is important for supporting long-term memory.
BDNF is obviously an important factor in maintaining a senior's cognitive function.  What was less obvious, until researchers discovered the effect in laboratory tests, is that exercise stimulates the production of BDNF.  Test subjects were able to do better on cognitive tests, like running mazes, if they exercised beforehand.
A senior only needs a relatively small amount of exercise to enjoy the benefits of increased BDNF production.  One study by The Franklin Institute suggests that merely going on a twenty-minute walk is all one needs to stimulate BDNF.
Depending on the level of mobility a senior has, plenty of mild-to-moderately strenuous exercises exist that they could engage in. Exercises include:
Walking or jogging
Dancing
Bicycle riding
Garden work
Leisurely swimming
Any sort of team sport
Studies suggest that a person should engage in at least ten minutes of uninterrupted physical activity to see the mental benefits of exercise. Two sessions per day of approximately ten minutes each seem to provide optimal mental benefit in strengthening the brains of seniors – although of course, more exercise can be good as well!
Better yet, exercise has been shown to help fight off dementia. A 2014 study from The University of Eastern Finland showed that exercising at least twice a week can significantly reduce a person's chances of dementia later in life. Also, while the effects were more pronounced in middle-aged people, the effect was still present for seniors. Exercise can begin at any point because some mental benefit will always exist.
Mood-related benefits exist as well to those who get exercise. Exercise is better at mood elevation than even prescription anti-depressants such as Zoloft. Exercise truly is all-around good for seniors' minds and bodies.
Looking for Quality Home Health Care Services in Philadelphia?
Neighborly Home Care is here to help. We have highly experienced, well-vetted staff and a focus on customizing care to meet the needs of each individual patient.  Contact us to schedule a free consultation and learn about our home health care services in Philadelphia.
The families we serve keep saying great things.
I just wanted to tell you how grateful we are that Neighborly Home Care stepped in & took over taking care of my Dad when we really needed it, no questions asked. Our caregiver has become part of the family and we know we can depend on her being there every day & taking great care of my Dad. He misses her when she's not there!
— Daughter of an NHC Client