Benefits of Respite Care for the Elderly and Caregivers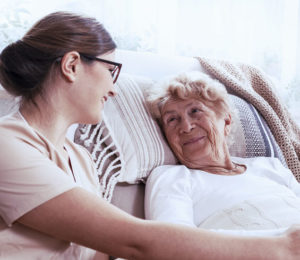 Caring for a loved one is both rewarding and demanding. Family caregivers seek ways to balance caregiving's physical and emotional stresses and demands with their desire to care for their loved ones. As a result, many family caregivers are looking to the benefits of respite care. Professional home respite care is an excellent source of support for family caregivers.
What Is Respite Care?
Respite care is a type of care that provides families with support and assistance by giving short-term temporary relief or regular elderly care. For example, if you care for a loved one and are still working, taking care of your children or other family responsibilities, and trying to maintain your health, you may need more time for those activities. A professional caregiver can step in and care for your loved one.
What Are The Benefits of Respite Care?
The top benefit for seniors is that they continue to receive the same schedule and level of care from a caregiver that they usually receive from their family members. Family caregivers get peace of mind from the arrangement, and they receive other benefits of respite care as well.
Reduce Stress for Better Health
One of the main benefits of respite care for family caregivers is that they get a chance to rest. As previously mentioned, caregiving can be stressful for family members, especially when balancing other duties. Respite care offers primary caregivers the time to rejuvenate. By allowing caregivers to take a break from their responsibilities while knowing that their loved ones are receiving quality care, the stresses associated with caregiving are reduced, the caregiver maintains perspective and their mental and physical health are improved.
Balance Your Life Easier
Respite care services can also help family caregivers balance their other life duties more efficiently. Significant events at work, childcare responsibilities, or even family vacations may vie for the attention of a family caregiver. With respite care, all of those activities can fit into the schedule. The caregiver can take time off to handle these other duties without worry. Or, if you have small, recurring responsibilities, the extra time off can help you form a more manageable schedule, both in the present and in the future.
Maintain Your Social Relationships
The extra time gained from respite care allows family caregivers time to maintain their social connections. Avoiding isolation is essential for family caregivers, which can be difficult when caring for a loved one part or full time. With respite care, family members have a much-needed break from caregiving duties and can use their break to spend time with friends and family. Visiting and socializing with friends who support you is vital for maintaining your mental and emotional health. Choosing respite care will allow you to stay involved with your social circle without sacrificing the care your loved ones receive.
Contact Neighborly Home Care for Respite Care Services
If you are or know a family caregiver who can benefit from additional time to rest and maintain their health, contact Neighborly Home Care. We will work with you to understand your role as a caregiver and minimize disruption to your loved ones' caregiving needs. Our caregivers are highly qualified and experienced. We will also develop a comprehensive care solution to encompass all of your loved ones' needs while maintaining their sense of personal freedom and peace. Contact us today for more information on the benefits of respite care or our services.
The families we serve keep saying great things.
I just wanted to tell you how grateful we are that Neighborly Home Care stepped in & took over taking care of my Dad when we really needed it, no questions asked. Our caregiver has become part of the family and we know we can depend on her being there every day & taking great care of my Dad. He misses her when she's not there!
— Daughter of an NHC Client