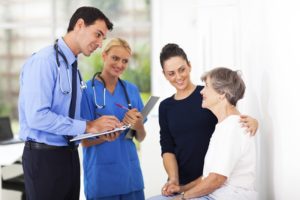 When a member of your family reaches an age or stage in their life where they are unable to care for themselves, the decisions that have to be made can become difficult. How will you find elderly care for loved ones that is suitable to provide all of their needs? Are you able to afford an in-home care attendant? These are difficult decisions with huge impacts on your future, and the future of your elderly parents, grandparents or other family members whose care is now in your hands. In this article, we will outline how you can make this decision-making process easier for yourself and your loved ones.
Make Decisions Together
These decisions on determining elderly care for loved ones are never easy, and communication with other family members is crucial. Collect as much information as you can about your aging loved ones. Some of the information you should look at includes:
Signs that your aging parents, grandparents, or other family members need senior care
Types of care available and the level of care your loved ones may need
Current and potential status of finances
Amount of time you or other family members could dedicate to being a family caregiver
Then gather your family to discuss information about possible caregiver services and support. This meeting allows all family members to ask questions and communicate their preferences about services. Everyone should also be informed about the expenses so that they can be open about financial commitments for the future care of a loved one.
Seek Outside Resources
You should also seek out and communicate with others who have found themselves in this same situation of deciding on elderly care for loved ones. Read the reviews of local elderly care centers to assure that your loved one will receive top quality care. Talk with your family, your friends, and representatives from caregiving agencies.
Once you have decided on your loved ones' needs and found the provider who will help you care for them, you will feel more at peace. Knowing that your loves ones are safe and receiving the best possible physical and emotional care will allow you to maintain your normal routine without stress. You will no longer worry if they are safe, hungry, or have taken their required medication.
Answers and Help Are Available
Neighborly Home Care has extensive experience in all types of elderly care. We will help you customize a care plan for in-home care services. A caregiver will be assigned to your family based on your needs, through an interview process between you, your loved one and the caregiver.
How We Can Help You
As family members age they are increasingly at risk for serious diseases such as Alzheimer's, Parkinson's or other forms of dementia. Older adults are also at a higher risk of a stroke or other conditions that may leave them physically or mentally unable to care for themselves. Even with these risks, your loved may still be able to remain at home or with family who loves them. In-home services, both short-term and long-term care, can be provided so that your loved ones can continue to live a quality life. Neighborly Home Care will: