Considerations for Providing Home Care for an Aging Parent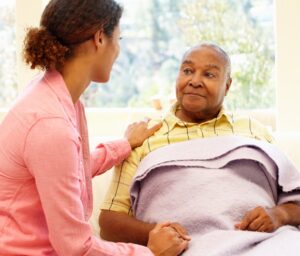 As your parents or other elderly loved ones get older, their needs will become increasingly challenging. While choosing a nursing home is an option, many people are electing to move their parents into their homes with the assistance of home care agencies. If you have considered all the choices and decided that moving your aging parent into your home is the best choice, you should know what changes and adjustments you can expect from the senior living situation, and how to provide the best home care for an aging parent.
Changes in Your Family Roles
While moving your parent into your home can be rewarding, tensions could arise due to the shift in family roles. For example, when your previously independent-living parent becomes increasingly dependent on you, you will have less time for yourself. You may have to spend more time as a family caregiver. Your work schedule may need to change, and the children may be required to take on additional household responsibilities.
One way to minimize these changes is by using a home care agency to assist with the overall care of your parent. Many family caregivers feel stressed due to spending more time caring for their loved ones. A professional caregiver can support you by relieving the stress of caregiving and giving you more time to spend on your other necessary activities and with your family.
Physical Alterations to Your Home
Your home needs to accommodate any health problems your elderly parent may have, such as vision or mobility challenges. One great way to start is by checking with a home care agency for a home assessment. The home care agency can examine your home and suggest modifications, such as ramps, grab bars, or even the addition of accessory dwelling units (ADUs). These modifications may be necessary to provide adequate home care for an aging parent, so make sure you fully understand what your loved ones need to be safe.
Overall Lifestyle Changes
You and your parent will likely have different lifestyles, including food preferences, sleep cycles, social interests, and noise tolerance. These lifestyle differences can be a source of tension in households, so several facets may need to be adjusted for a happy transition. If you feel your parent's needs are too much at some point, give yourself a break. Ask family members to assist you or seek help from a home care agency. Caregivers at a home care agency such as Neighborly Home Care will come to your home to help with your senior loved one's needs. The assistance can varying according to levels of care needed, from visits on a regular recurring basis for just a few hours up to 24-hour care.
Neighborly Home Care can also provide numerous care services based on a care plan developed with you. In addition, the care plan can act as a plan if any future conditions or health issues arise, so you and your loved ones are prepared for long-term care.
Financial Considerations
The families we serve keep saying great things.
I just wanted to tell you how grateful we are that Neighborly Home Care stepped in & took over taking care of my Dad when we really needed it, no questions asked. Our caregiver has become part of the family and we know we can depend on her being there every day & taking great care of my Dad. He misses her when she's not there!
— Daughter of an NHC Client
As a part of the transition in providing home care for an aging parent, you will likely become involved in your loved one's finances. Use the following tips to make this process more manageable:
Discuss all financial arrangements with your siblings to get them involved. Altered work hours, increased medical spending, and food consumption can impact your finances more than you imagine. Planning for siblings or other family members to contribute could ease financial worries.
Reach an agreement on the amount (if any) your parent will provide for everyday living expenses, such as rent, food, and other costs.
Use Personal Care Agreements, legal documents designed to enumerate any payment your parent makes to you to compensate for your caregiving services. While discussing these issues may be uncomfortable, having things settled in advance will help avoid conflict later.
Ensure that Advance Directives, Durable Powers of Attorney, and all other legal documents are in order.
If you must reduce your work hours, understand the impact it will have on your job and finances, including retirement, insurance, and Social Security benefits.
When moving your parent into your home, consider all possible conflicts and issues so you can strategically plan for the move and make it as smooth as possible for everyone. In this process, you will find helpful suggestions and solutions by consulting the senior care experts at Neighborly Home Care. We are trusted senior home care providers in Pennsylvania and Delaware communities.
Next month, join us as we discuss "Where to find money (and resources) for home care."
Contact Neighborly Home Care for Senior Care Services
If you need help caring for your elderly parents and loved ones, reach out to Neighborly Home Care. Our caregivers are certified nursing assistants or have received equivalent training and passed a nurse aid skills assessment test. We want to ensure that your loved ones receive the best and most affordable in-home care. Our agency is a leading home care provider in Philadelphia area communities and Delaware. Contact us today to learn more about our in-home care services and home care for an aging parent.