Main Line Home Care Service Offers Winter Tips for Senior Care in Philadelphia, PA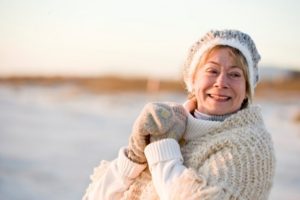 Every season creates its own challenges when providing senior care in Philadelphia, PA, but in many ways, winter is the hardest – particularly here in the Main Line area where we can see truly intense winter weather.  Many aspects of winter can threaten a senior, both mentally and physically, so caregivers must be able to adapt to these challenges.
If you are currently providing senior home care in Main Line, here are some tips on how to help your loved one have a safe and enjoyable winter.
Four Ways to Help Keep Seniors Safe in the Winter
1. Plan
Preparation is a major part of Main Line Philadelphia senior home care in the winter.  Ideally, seniors should have everything they need for several days in case they ever become snowed-in by a heavy storm. In particular:
Be certain the kitchen is stocked with groceries, including plenty of non-perishable easily-prepared foods in case of power outage.
Always have extra bottled water on hand.
Check your loved one's closet to ensure he/she has plenty of appropriate winter clothes, blankets, and other items to keep warm.
Provide a pair of shoes with non-slip soles that are appropriate for walking on slippery surfaces.
Have the fireplace, furnace, or other heating setup inspected.
2. Communicate Often
You are probably already checking up on your senior loved one regularly, but be sure to be extra-diligent about communication in the winter.  Doing so goes beyond simply checking in on their health. Winter, with less sunlight and often, more isolation, can be a depressing season.  Seniors may need more attention and communication from loved ones to.
3. Help Seniors Stay Active
During winter months, becoming very sedate and inactive can easily occur.  The inactivity can be bad for anyone's health, and especially bad for seniors.  Encourage senior loved ones to exercise and depending on their level of mobility, even consider buying some indoor exercise equipment.
4. Be prepared to run more errands on their behalf
When the weather is snowy and icy, have a family member, friend, or caregiver run errands whenever possible to reduce possible slip and fall accidents.  If you can be the driver, or find a professional helper, your senior will also have help with crossing icy roads and parking lots.
Neighborly Home Care Provides Help with Main Line Home Care
From running errands to daily check-ins, Neighborly Home Care can provide extra support for your senior loved ones.  Contact us to learn more about our Main Line home care services.
The families we serve keep saying great things.
I just wanted to tell you how grateful we are that Neighborly Home Care stepped in & took over taking care of my Dad when we really needed it, no questions asked. Our caregiver has become part of the family and we know we can depend on her being there every day & taking great care of my Dad. He misses her when she's not there!
— Daughter of an NHC Client